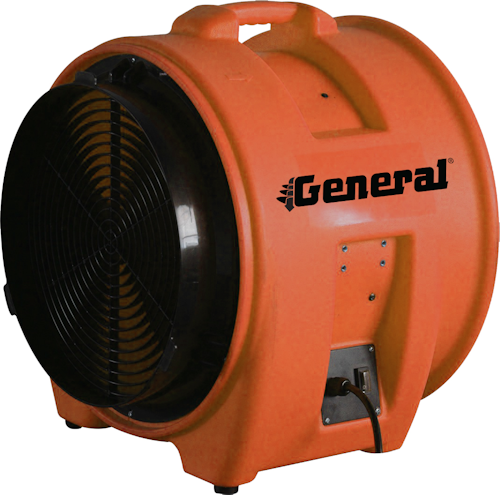 Safety equipment:General Equipment Co. has added the EP16ACP axial-flow confined spaceventilation blowerto its line of hazardous and non-hazardous location ventilation blowers. Compared to other models of axial-flow blowers from General Equipment, this new unit is larger with a 16-inch diameter inlet/outlet and delivers greater airflow.
Powered by a 1-horsepower, 115 VAC electric motor, the EP16ACP offers a free air flow rate of 4,450 CFM. It's ideal for use in conventional confined space worksites such as manholes and sewers, and powerful enough to push air across large open areas, making it great for drying applications, improving indoor air quality levels and removing unwanted odors. Other models in the line include the EP8ACP and EP12ACP, which deliver free air flow rates of 501 and 1,825 CFM, respectively.
General Equipment's axial flow blowers feature heavy-duty polyethylene construction, which makes them durable enough to handle jobsite abuse, yet light enough to move around with ease. The polyethylene also allows the units to maintain their strength and physical appearance by eliminating corrosion and damage concerns that are common with similar metal-built models. For added versatility, the blowers can be stacked for operation and storage. Furthermore, they have the ability to either remove air from a confined space area or blow fresh air in, simply by changing the ventilation duct location on the blower's inlet or outlet.
Beyond its axial-flow blowers, General Equipment offers a wide range of polyethylene- or steel-built ventilation solutions including radial configuration blowers, positive pressure ventilation, down-force style blowers, carpet dryers and BLOW-R-PAC® units. All General Equipment confined space ventilation blowers are flow tested according to industry performance standards. Published flow rates are certified by an independent testing laboratory.
In business for more than 60 years, General Equipment Company is a family-owned manufacturer of earth augers, ventilation blowers, asphalt cutters and surface preparation equipment.
For more information about General Equipment Co. or other products, click here to go to Utility Products' Buyers Guide.