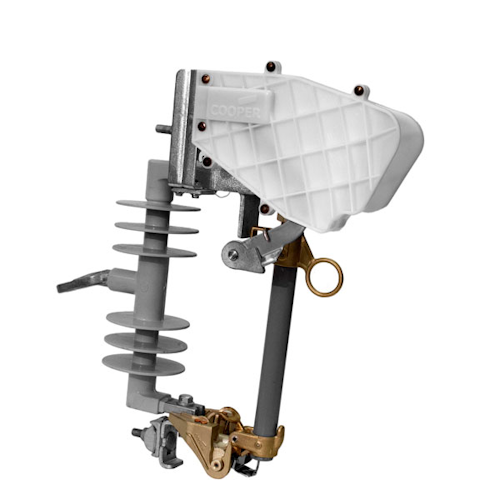 Utility equipment: Eaton's polymer distribution cutouts, with Cooper Power series UltraSIL polymer-insulated interchangeable cutouts, are now available in a loadbreak version. Our premium UltraSIL polymer-insulated cutout incorporates an industry recognized silicone rubber insulating material with superior hydrophobic qualities.
Eaton offers the loadbreak Type LB cutouts in both polymer and porcelain designs, which provide reliable overcurrent protection for primary distribution circuits. Overcurrent protection safeguards an electric system from excessive current produced by abnormal conditions such as faults, line or equipment overloads, or equipment failures. Polymer and porcelain Type LB cutouts are ruggedly constructed and will provide full-range overcurrent protection from minimum melt of a given fuse link to the maximum nameplate interrupting current rating of the cutout.
FEATURES
• Loadbreak cutout consists of a heavy-duty arc reducing load interrupter mounted to the cutout frame. The interrupter together with the associated fuse holder provides a safe, reliable, loadbreaking device with visible break.
• The arc chute provides a safe, reliable arc containment using UV stabilized Acetal material for excellent arc quenching properties.
• The loadbreak arm is constructed from heavy-duty stainless steel with a heavy-duty spring for quick, safe arc extinguishing.
• No tools are required. Fast operation is independent of operator speed and can be operated from a bucket truck or from the ground.
For more information about Eaton or other products, click here to go to Utility Products' Buyers Guide.