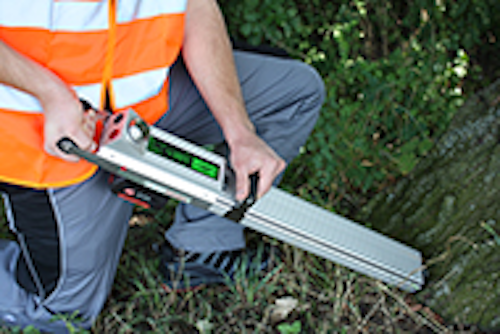 Test equipment: IML, the leading manufacturer of the wood inspection drill, announces the coming of 30 years in the business and 25 years in the wood inspection industry. IML is an internationally recognized company specializing in designing instruments that measure and record the strength of a wood product such as timber, utility poles, bridges and trees. IML is celebrating by offering anniversary specials until the end of December, 2015.
Since it was founded in 1985 by Erich Hunger in Wiesloch, Germany, IML has developed from a one-man operation to a global establishment with subsidiary offices in the United States, Australia and other commercial representation. The North American office, located in central New Hampshire, is the sole site for all western drill calibration, repairs and new shipments.
"Being the leading business for wood inspection drills, it is important that we place ourselves in areas best fitted for our customers. We are able to do a quick turn-around for repairs, calibrations and new drill orders. For larger companies interested in an on-site demo, we have representatives from our office able to meet with their team and offer in-person training at our location," said Kevin Keenan, the Sales Support Manager at the IML North American office.
Close cooperation with the scientific community has been important and essential for economic development. For Prof. Dr. Claus Mattheck, professor of damage studies and winner of the 2003 German Environmental Award, cooperation between the KIT (Karlsruhe Institute of Technology) and IML points the way to the future and is of considerable scientific importance.
"IML drill resistance measuring devices have made verifiable results possible for the Visual Tree Assessment, and others. The fact that the company has constantly sought more efficient solutions in development issues has brought immense benefits to the timber and forest industries and many peripheral areas," said the independent specialist for tree monitoring and the study of wooden structures.
IML precision equipment has received several innovation awards; more than 25 patents and patent applications have been implemented. It is these, as well as consistently driven scientific research, that form the basis for global leadership in the drill resistance measuring device segment. In 1990 IML was among the pioneers in the field of drill resistance measuring devices for the study of trees and wooden structures. Initially used for purely scientific purposes, after a short time they also found commercial applications. Today, IML products are considered 'state-of-the-art' worldwide.
About IML:
IML North America is a subsidiary of IML GmbH, a family business based in Wiesloch, Germany. IML is engaged in the development, manufacture and global sale of market-leading wood inspection drills for wood strength diagnostics. Located in central New Hampshire, IML North America is the primary resistance drill manufacturers for utility pole inspections, timber testing and tree assessments. IML consistently focuses on growth with continuous innovation, purposeful investments and a highly specialized workforce.
For more information aboutIMLor other products, click here to go to Utility Products' Buyers Guide.