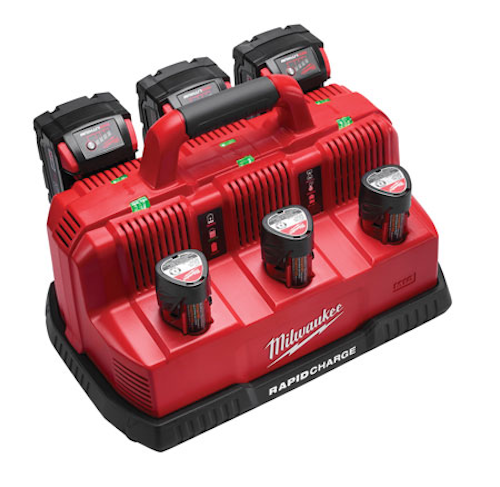 Stored energy:Milwaukee Tool's charging station has the ability to charge six packs four times faster than previous offerings. The M18 and M12 Rapid Charge Station (48-59-1807) can charge three batteries simultaneously, each individual pack charging up to 40 percent faster.
As pack capacities continue to increase and more users migrate from corded to high powered cordless tools, the M18 and M12 Rapid Charge Station is built to supply ample power to even the most demanding worksite. With a growing customer base using both M18 and M12 tools, the unit has the capacity to hold up to three M18 batteries and three M12 batteries. This allows multiple users to charge off the one station, freeing up remaining outlets, and will reduce the amount of time spent changing out batteries, increasing productivity on the jobsite.
Featuring REDLINK Intelligence hardware and software, the station is equipped with an advanced electronic system. REDLINK monitors the health of the battery packs, protecting against over charge and over discharge. Each pack has a charging profile, fully optimizing its speed and life.
For more information about Milwaukee Toolor other products, click here to go to Utility Products' Buyers Guide.