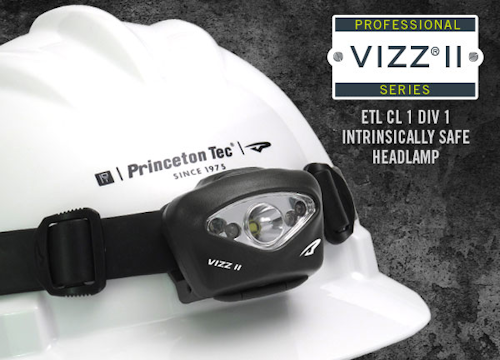 Work light:Princeton Tec announces that the Vizz II Intrinsically Safe headlampis now available! This new headlamp is ETL approved CL1DIV1 Intrinsically Safe, Groups A-G. This version of the Vizz headlamp puts out 150 lumens via the spot beam, and also features a dimmable white LED flood beam.
In related news, the Sector 5 spotlight is now UL certified CL1 DIV2 Groups A, B, C & D. This light features a 550 lumen spot beam and a convenient pistol grip with locking trigger switch.
Vizz II
POWER: 150 Lumens
BURN TIME: 108 Hours
BATTERIES: 3 AAA Alkaline included
WEIGHT: 92g
SECTOR 5
POWER: 550 Lumens
BURN TIME: 24 Hours
BATTERIES: 4 C Alkaline included
WEIGHT: 650g with batteries
Contact your Princeton Tec Sales Rep, call our offices at 609.227.4125, or email us: rcash@princetontec.com.
For more information about Princeton Tecor other products, click here to go to Utility Products' Buyers Guide.