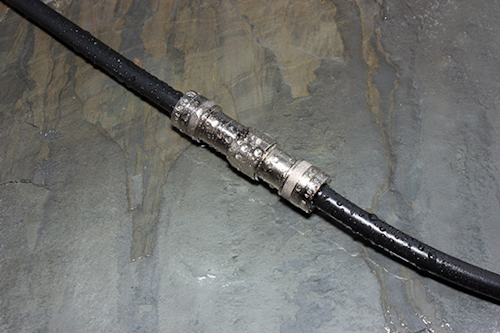 Utility supplies:The top failure modes of coax cable assemblies in the field are caused by loose connectors or moisture entering the connector, resulting in damage to the cable and reduced system performance.
Cable assemblies using the RF Industries patented Comp Pro® connector compression technology eliminates loose connectors and moisture. Assemblies are manufactured with Times Microwave LMR®-400-DB cable used for direct burial and immersion. The Comp Pro® connectors feature a wide 360 degree contact and integrated air tight seal to the cable held in place by patented technology and materials. The attached connector provides a weather seal without the addition of sealing tape which is prone to failure. In addition, the patented compression technology provides a minimum connector retention pull strength of 200 lbs. compared to the average crimp or solder clamp connector pull strength of 130 lbs. Assemblies are manufactured to customer required lengths.

Connector interfaces include N male straight and right angle, N female, 7-16 DIN male and TNC male straight and right angle. Assemblies are also available with Time Microwave LMR®-400 and LMR®-400-LLPL, plenum rated cables.

Available from RF Connectors, a division of RF Industries. RF Industries (NASDAQ RFIL), is a leading supplier of connectivity solutions provided through its operating divisions: RF Connectors, RF Cable Assembly, Aviel Electronics, OddCables.com, Cables Unlimited, Comnet Telecom Supply and Rel-Tech Electronics.
For more information aboutRF Industriesor other products, click here to go to Utility Products' Buyers Guide.