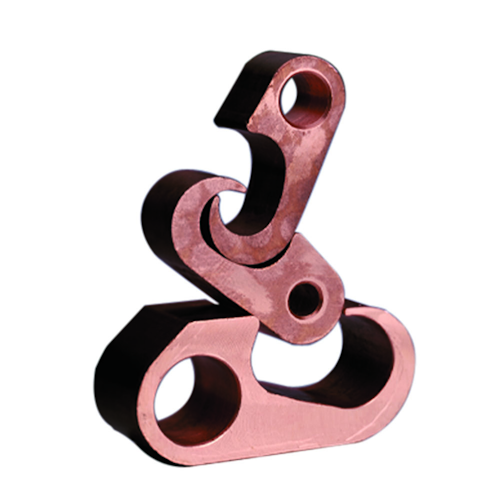 Utility equipment: Selected Figure 6 and C-tap connectors from the Blackburn® EZGround® compression connector line from Thomas & Betts (T&B), a member of the ABB Group, now comply with IEEE Standard 837-2014.

The revised standard establishes more rigorous electromagnetic force (EMF) testing requirements for substation grounding applications.

"A range of EZGround Figure 6 and C-tap compression connectors have been tested to verify compliance with the new standard," said Ralph Donati, product marketing director at T&B. "Eventually, all applicable Blackburn® grounding products will be subjected to the new testing standards and made compliant with IEEE 837-2014."

The Institute of Electrical and Electronics Engineers (IEEE) uses IEEE 837 to ensure that connectors have long-term performance capabilities for even the most demanding substation grounding applications. The new IEEE Standard 837-2014, published in October, includes more demanding testing for EMF withstanding criteria; for many conductor sizes, the required test current values have increased as much as 50 percent. Additionally, the increased EMF value has led to the number of surges for the EMF test to be reduced from three to two.

Blackburn® EZGround® compression connectors serve as a safe and code-approved alternative to exothermic welding connections. They are installed in half the time of exothermic methods, with fewer components, and in all weather conditions. Installation also includes die embossment on the connector that indicates that the proper tool has been used and a successful crimp has been made.

Thomas & Betts Corporation, a member of the ABB Group, is a global leader in the design, manufacture and marketing of essential components used to manage the connection, distribution, transmission and reliability of electrical power in utility, industrial, commercial, and residential applications. With a portfolio of more than 200,000 products marketed under more than 45 premium brand names, Thomas & Betts products are found wherever electricity is used. Thomas & Betts' headquarters are in Memphis, Tenn.
For more information about Thomas & Betts or other products, click here to go to Utility Products' Buyers Guide.