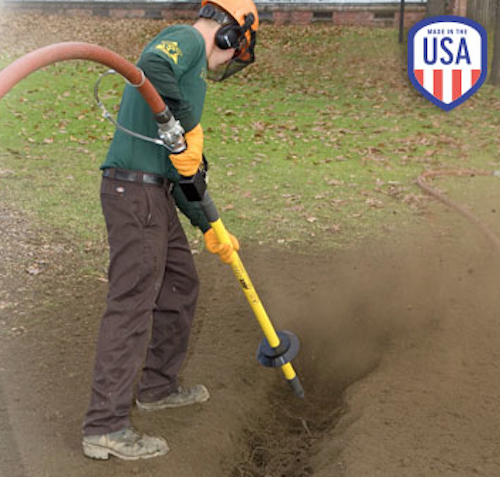 Utility equipment: AirSpade, a division of Guardair Corporation, will feature its AirSpade air excavation utility tools at the International Construction and Utility Equipment Exposition (ICUEE), September 29 to October 1. Experts from the experienced AirSpade team will present the Utility AirSpade 4000 used to effectively and safely uncover underground utility lines with the power of compressed air to ICUEE attendees that stop by the AirSpade booth. The conference will be held at the Kentucky Exposition Center in Louisville, Kentucky.
ICUEE, also known as The Demo Expo, is the premier event for utility industry professionals to gain comprehensive insight into the latest technologies, innovations, and trends affecting their industry. The three-day show features more than 850 leading manufacturers showcasing the latest utility products and innovations.
"The ICUEE show is the ideal setting to talk with utility industry professionals about the benefits that compressed air tools, like the Utility AirSpade 4000, bring to the job," said Thomas Tremblay, president of Guardair. "We're excited to showcase our unique tools and help professionals learn about the many applications of the Utility AirSpade 4000."
At the AirSpade booth (#2025), members of the AirSpade team will share with attendees the secret to fast and safe digging. AirSpade's Utility AirSpade 4000 harnesses the power of compressed air to safely uncover underground utility lines with less risk of damaging pipes, wires, cable lines, and other delicate infrastructure. AirSpade's high-performance, patented supersonic laser-like jet moves at twice the speed of sound for faster, more effective digging all while keeping what's under the dirt safely intact.
ICUEE attendees can purchase AirSpade products online via airspade.com. From now until October 15, 2015, attendees who use the code ICUEE2015 will receive 10% off their purchase plus free ground shipping.
About AirSpade
AirSpade, a division of Guardair Corporation, has been supplying air excavation tools to utilities workers, arborists, and landscapers for more than 30 years. Manufactured exclusively in the U.S., thousands of AirSpades are in use worldwide. Combining durability, safety, performance, and operator comfort, AirSpade has become the undisputed industry standard in air excavation.
For more information about AirSpade or other products, click here to go to Utility Products' Buyers Guide.