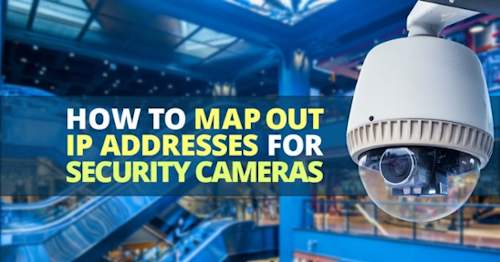 Security surveillance systems: To make best use of an installed security camera system, it must be configured to permit remote viewing and monitoring over the Internet. This is possible, provided there is a high-speed Internet connection available at both ends of the connection, i.e. at the viewer's location and at each location where a security camera has been set up. This baseline requirement must be in place before any network mapping can be done to enable the system. What comes next depends on the type of connection you have to the Internet -- here's why that connection type is so critical.
Security camera network mapping
It's very important to know just what kind of Internet connection you have, and this is determined by your Internet service provider. You may have a static IP address, which is always the same every time you connect to the Internet, or a dynamic IP address that changes every time you connect. The reason this is so important is that you need to know the address to connect to if you're using a DVR networked into your system (which you probably will be).
A static address makes this very easy because you can use the same address every time, whereas with dynamic addressing you will probably need to have a Dynamic Domain Name System (DDNS) service to keep track of the changing addresses, so you can identify each one in your remote DVR setup. Some DVR's and IP cameras have built-in DDNS support, meaning that the manufacturer has included a hostname which you can use to access your network of security cameras.
If your DVR or IP camera does not include DDNS support, you'll have to use a third-party service, and keep track of the IP updates on your router. When you use a DDNS service, you set up a hostname very similar to the domain names or hostnames that you might use to access any website on the Internet. That hostname is then associated to the IP address of your Internet service connection, and this can be done in several ways.
The first way is by using a router that supports DDNS, which most current routers on the market do. Once you log into your router and locate the DDNS setup screen, you enter your account settings, including your login, password, and the hostname you registered with your DDNS service. Whenever your router detects a changed IP address, it notifies the DDNS service about that change and tells it what the current address is. In this way, the hostname that you registered with the DNS is always the one that connects to your remote DVR over the Internet, and you never have to remember what the actual IP address is.
Using Net Prowler from T3 Innovation
Among the many capabilities of the Net Prowler from T3 Innovation, network mapping, port testing, and cable testing are some of the most prominent. Using the Net Prowler, you can ping a camera's IPV4, IPV6, and URL addresses to verify your connection, or use its IP discovery capability to sense connections. You can also detect the presence of PoE as well as the class of PoE, as per IEEE 802.3 af/at. This handy, all-inclusive tool can provide most of your network testing and mapping requirements all in a single, indispensable unit. T3 Innovation prides itself on offering the best hand-held network testing equipment on the market, all of which is designed and built in the U.S.A.
For more information about T3 Innovation or other products, click here to go to Utility Products' Buyers Guide.