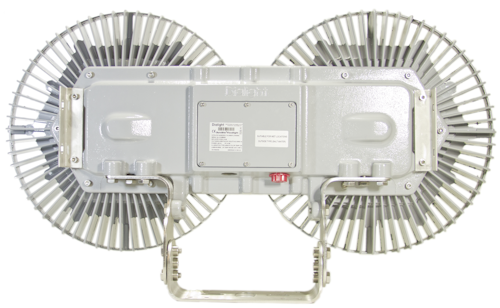 Safety lighting: Dialight, a provider of LED lighting technology, offers its new Vigilant® LED Floodlight. Delivering up to 55,000 lumens to meet the needs of industrial applications, the Vigilant Floodlight consumes less than half the energy of conventional HID systems, in a 30 percent lighter fixture.
The most efficient floodlight of its kind, the Vigilant is cited to be the industry's only UL1598/CE compliant floodlight suitable to replace antiquated 1,000-watt HID fixtures, delivering an ultra-efficient 130 lumens per watt with guaranteed performance to eliminate lighting maintenance for at least 10 full years.
The Vigilant Floodlight features wide 115 degree (NEMA 6) optics for optimal light placement, minimal scatter and reduced glare. The Vigilant Floodlight features terminal block for simple installation and single-control operation. The system includes an adjustable stainless steel bracket for multiple mounting options, as well as secondary retention points for added safety. Weighing in at 30 percent lighter than conventional HID fixtures, the Vigilant Floodlight makes installation simpler.
The Vigilant LED Floodlight system is available in both the high-output 55,000 lumen version and a 37,500 lumen model to satisfy a wide range of applications. The high-durability fixture features tempered glass lenses and sealed polyester topcoat with chemical-resistant epoxy primer powder coating for superior resistance to corrosion and other environmental factors even in the harshest conditions, including ambient temperatures ranging from -40°F to +149°F (-40° to +60°C).
The entire fixture is L70 rated for over 100,000 hours of reliable performance and is backed by Dialight's industry-exclusive 10-year full-performance warranty.
About Dialight
Dialight is leading the energy efficient LED lighting revolution around the world for industrial and hazardous areas as well as transportation and infrastructure applications. For 40 years it has been committed to the development of LED lighting solutions that enable organizations to vastly reduce energy use and maintenance needs, improve safety, ease disposal and reduce CO2 emissions. The company is headquartered in the UK with operations in the USA, UK, Denmark, Germany, Malaysia, Singapore, Australia and Mexico.
For more information about Dialight or other products, click here to go to Utility Products' Buyers Guide.