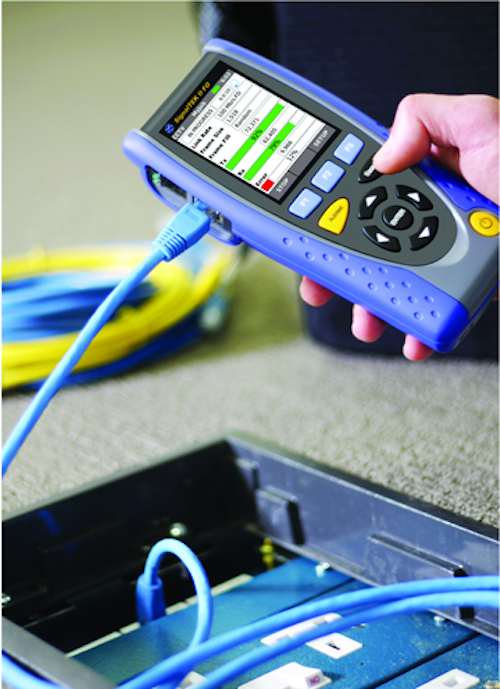 Test equipment: IDEAL Networks, a global innovator in network testing, installation and management products, will demonstrate its suite of mobile solutions designed to streamline workflow for field technicians at the BICSI Fall 2015 Conference & Exhibition, Booth #410, September 20-24 at the Mandalay Bay Hotel in Las Vegas, NV.

At the forefront for IDEAL is its new AnyWARE app that empowers IT technicians and cable installers to remotely access stored test results and generate PDF reports "on the fly" to share with project managers, resulting in greater collaboration and visibility, more on-time job completions, reduced costs, and exceeded customer expectations.

Dan Payerle, Business Unit Manager for IDEAL Networks, explains: "AnyWARE completely changes the face of cable testing. This end-to-end solution lets techs transmit test reports from the field without having to drive back to an office to handover physical media or connect to a PC which many techs don't carry with them in the field. Even if they do, most do not have mobile hotspots so they can't send the data unless they go to a place with Internet access. Once test results are on the phone, the tech can view, email, or upload them for sharing with all stakeholders in the project."
To provide a superior user experience, IDEAL eliminates the hassle of connecting to local Wi-Fi by having many of its testers serve as built-in Wi-Fi hotspots. Also, because the IDEAL AnyWARE app is not a cloud service and IDEAL cannot access or view the test reports, the user is ensured of total security - the data remains in their control at all time.
IDEAL will be rolling out new versions of its SignalTEK and NaviTEK cable testers integrating AnyWARE at BICSI. Earlier generation IDEAL SignalTEK II and NaviTEK II testers can be upgraded with AnyWARE capability at no cost.
For more information about IDEAL or other products, click here to go to Utility Products' Buyers Guide.