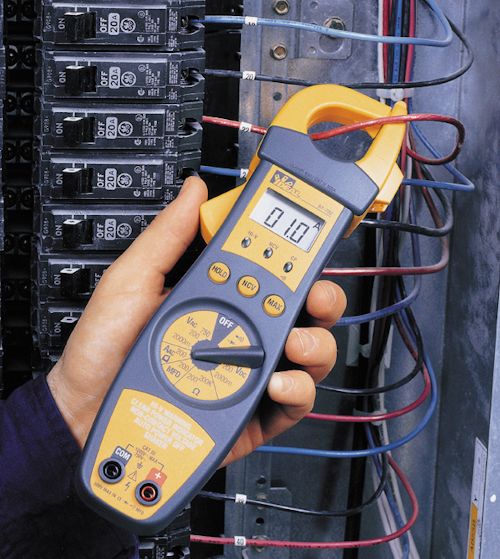 Test products: IDEAL Electrical is providing contractors with versatile solutions to electrical testing with its 61-704 clamp-style tester that enables electricians to perform procedures that previously required four separate tools, resulting in greatly improved cost-efficiencies, a less cluttered tool bag, and enhanced on-the-job safety due to the tester meeting CAT III standards.

The model 61-704 was designed around what electricians in the field told IDEAL they needed, making it a testing tool engineered by electricians for electricians. It is packed with so many productive capabilities that it's perfect for just about any environment, whether it's residential, commercial or industrial.

The ultimate multi-purpose troubleshooting tool, the 61-704 capabilities are:
1. 200A Clamp/multimeter with True RMS, Capacitance, and Backlight
2. Non-contact Voltage Tester
3. AC Voltage Tester with Shaker
4. Harmonics Tester.
The Clamp/multimeter feature allows electricians to easily and accurately measure AC Amperage, AC/DC Voltage and Resistance/Continuity. Tradesmen will appreciate the meter's tapered jaw that permits access to cables inside tight spaces, and its slim profile for easy use and storage.

The non-contact voltage tester allows an electrician to indicate voltage from 40-600VAC in the tip of the meter without turning a dial or using test leads, while the Shaker provides the user with a tactile feel similar to a solenoid tester. The Harmonics tester is designed to inform the user if dirty power is present by indicating if 5% or more harmonics exists on the line.

Like all IDEAL testing tools, the 61-704 sets the standard for user safety. It is rated for Cat III-1000V and offers visual and audible voltage indication even when it is set on the wrong function. The kit comes with integral lead storage, prod holder for two-handed operation, integral lead storage, and a carrying case. The tester is immediately available with an MSRP of $202.74 (USD).
About IDEAL INDUSTRIES
IDEAL INDUSTRIES, INC. is a global, diversified family business designing and manufacturing superior products and tools for professional tradesmen in the electrical, wire processing, data communications, aerospace, automotive and construction industries. The 99-year old company was founded in 1916 on the premise of forging ideal relationships with customers, employees and communities. The company has consistently grown and expanded under four generations of family ownership.
About IDEAL ELECTRICAL
IDEAL ELECTRICAL is a Division of IDEAL INDUSTRIES, INC. The division is a global leader in the development, manufacture and marketing of enhanced energy management systems, products and technologies for professional electricians, design engineers and facilities executives.
For more information about IDEAL Electrical or other products, click here to go to Utility Products' Buyers Guide.