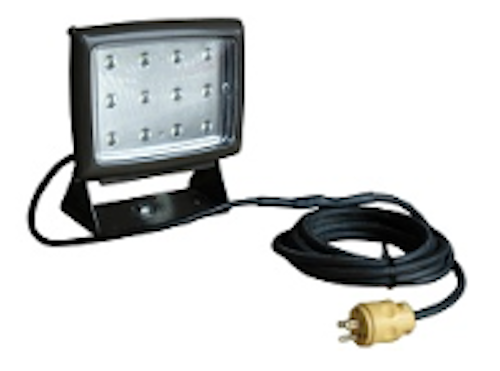 Utility equipment: Larson Electronics has announced the release of a 40-watt LED wall pack light that offers high output from a compact form factor and is designed to provide a durable and long lived alternative to halogen and metal halide units. The LEDWP-400-30C LED wall pack light produces illumination comparable to a 400-watt metal halide light without the high heat, fragile construction, and high energy costs.
This wall pack light consists of 12 LEDs paired with high purity specular optics to produce a long flood beam of light while drawing only 40 watts of power on a 120-volt electrical system. These LEDs are housed within a waterproof aluminum housing that is powder coated for added durability and resistance to corrosion. The housing incorporates integral fins for efficient heat dissipation and increased LED longevity. The LED lamp assembly is protected by a shatterproof polycarbonate lens that is secured to the housing with a waterproof seal. A ½" waterproof connector provides a secure and sealed power connection point. This wall pack light is designed to withstand demanding conditions and is waterproof, vapor proof, and built to resist the damaging effects of an outdoor environment. Mounting hardware for this light consists of a stainless steel black coated bracket and stainless steel screws to provide secure mounting and resistance to rust and corrosion. The mounting assembly provides 380° and 180° rotation to allow the user to position the unit as desired once mounted. This LED wall pack light is designed to operate on voltages ranging from 110V AC to 277V AC, providing versatile power connection options and includes thirty feet of cord terminated in an optional general use plug for connection to common wall outlets.
For more information about Larson Electronics or other products, click here to go to Utility Products' Buyers Guide.