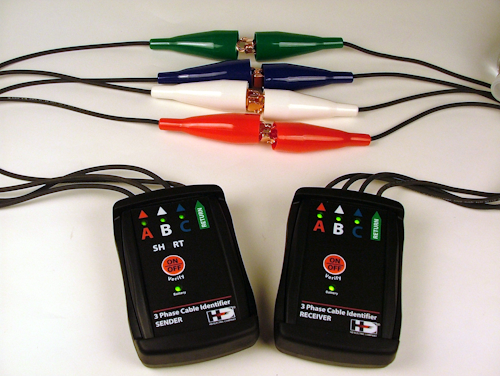 Cable test equipment: HD Electric's (HDE's) 3ID Three Phase Cable Identifier identifies the correct phases on long lengths of de-energized and discharged overhead and underground cables. It includes a sender and receiver that are designed to be hand held with or without gloves. Because of its higher test voltage, the 3ID can test long lengths of cable. LEDs on both units indicate when the 3ID is connected to the same phases on each end of a cable, or any shorted phases.

Cable identifier features:
• Quickly and easily identify all three cable phases simultaneously as well as any shorted phases;
• Higher test voltage allows for testing of longer cable lengths - tested up to seven miles of cable;
• Use in overhead or underground systems;
• Compact, lightweight and easy-to-use;
• Super bright LED indicators;
• Large copper alligator clips with heavy-duty boots; and
• Low battery indicator.
For more information about HD Electric Co. (HDE) or other products, click here to go to Utility Products' Buyers Guide.