Work light: Triple headed portable LED flood light
LED lighting: Larson Electronics releases triple headed portable LED flood light on telescoping tripod.
Jun 19th, 2015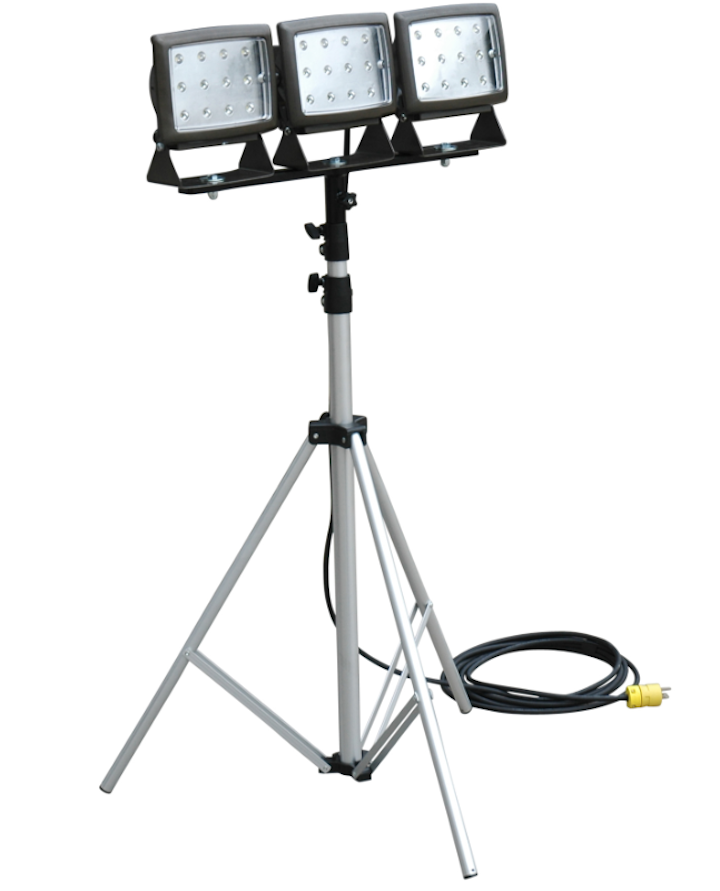 Utility equipment: Larson Electronics has released a 120-watt telescoping LED work light that produces illumination comparable to a 400-watt metal halide without the high heat, fragile construction, or high energy use. The WALTP-3XWP400-200 is designed to provide a portable yet powerful lighting solution that can be quickly transported and deployed. This portable tower features a collapsible tripod that extends from three feet to ten feet in height and three LED light heads mounted to a single, removable bracket.
This adjustable work light produces 4,386 lumens of bright white light and distributes it in a wide flood pattern capable of illuminating 18,000 square feet of work space. Each light head contains twelve, 3.3 watt LEDs housed within a waterproof aluminum housing that is powder coated for added durability and resistance to corrosion. The lamps have a 50,000+ hour operational life, providing more than twice the longevity of HID lamps, and are designed to provide high output while running cooler, resulting in less heat in the work area and less chance of accidental burns.
This LED light tower is designed to withstand demanding conditions and is waterproof, vapor proof, and built to resist the damaging effects of an outdoor environment. The heavy-duty aluminum tripod is durable, lightweight and adjustable to any length between 3.5 feet and 10 feet. The tripod legs collapse and the light head bracket is removable for simple portability and deployment. Power is provided by a 200 ft. SOOW cord terminated with an optional cord cap to accommodate many plug outlets across the globe. This LED work light can be easily stored and carried in a work truck for rapid deployment as a scene light for first responders to downed lines, main breaks, or accident scenes and other applications where general area lighting is not available.
"The WALTP-3XWP400-200 is a lightweight and simple lighting solution for operators who need an instant-on and reliable source of illumination," said Rob Bresnahan with Larsonelectronics.com. "Featuring LED technology, these flood lights do not require any warm up time and can be cycled on and off without any reduction in lamp life."
Larson Electronics produces a full range of industrial and commercial lighting equipment, HID work lights, portable light towers, generator powered light towers, and LED work lights.
For more information about Larson Electronics or other products, click here to go to Utility Products' Buyers Guide.