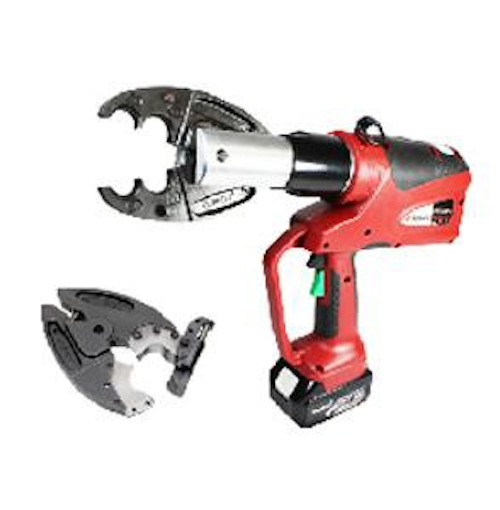 Utility supplies: The BURNDY® PATRIOT® PAT500SJ Series 6-Ton battery actuated "scissor-action" crimping tool compliments the PATMD6 Series of IN-LINE® tools while offering superior ergonomic balance.
The pistol-style offering has been introduced to satisfy the need for those that prefer the more ergonomic feel of a pistol grip tool versus an IN-LINE® tool. This balanced design allows true one-hand operation leaving the other hand free to manipulate the conductor into the proper crimping or cutting position.
Your customers now have two choices when it comes to selecting a 6-Ton battery powered crimping tool - the PATMD6 Series IN-LINE® tool or the new PAT500SJ Series Pistol-Grip style design!
Features and Benefits
• Accepts all BURNDY® standard "W" and "X" style crimping dies and offers Copper crimping capacity from #8 wire up to 500 kcmil and #8 wire to 350 kcmil for Aluminum cable.
• With the interchangeable cutter jaw, the PAT500SJ allows for Copper cuts up to 500 kcmil, Aluminum cuts up to 636 kcmil and ACSR cuts up to 556 kcmil.
• Built on the BURNDY® INFINITY DRIVE® engine platform to deliver 6 tons of consistent force, ensuring perfect crimp or cut.
• Incorporates the latest in engineering technology with a patented high-speed hydraulic pump system and field proven electronics offering high-performance, speed and a consistent and reliable connection every time.
• BURNDY® offers a lifetime warranty on the INFINITY DRIVE® transmission, a 5-year limited warranty (excluding blades) for the tool and a 1-year limited warranty on the batteries and charger.
For more information about BURNDY or other products, click here to go to Utility Products' Buyers Guide.