Boom crane attachment: Insulated rotating jib boom man basket
Boom equipment: Reach-All Platforms introduces insulated rotating jib boom man basket – an attachment for after market boom truck cranes for power transmission and tree trimming.
Jun 22nd, 2015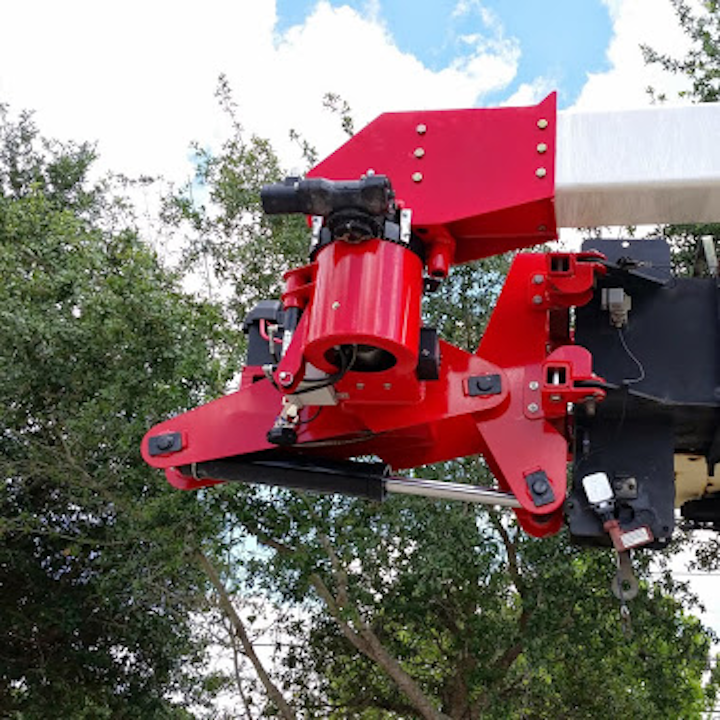 Line maintenance: Reach-All Platforms LLC announces an addition to its line of aerial work platforms suitable for attachment to a variety of boom truck cranes. The aerial attachment connected to the boom tip enables the crane to function as an insulated man lift with WRAP AROUND capabilities to work on the blind side of power pole cross arms, and transformers or tree branches. The family of CraneMate platforms are the industry's only work platform with self contained hydraulics.
The insulated jib boom with basket pin-on to most boom truck cranes by means of the equipment's existing swing jib mounting brackets, thus allowing attachment to all-terrain cranes, boom trucks, telescopic crawlers, or other hydraulic telescopic equipment. As a result, they are suitable for the following vertical markets: power transmission, utilities and electric contractors, telecom antennas, commercial painting, bridge construction and maintenance, outdoor signs and lighting, and building construction.
Reach-All claims a list of features and capabilities unique in the industry:
• 320 degree platform rotation and automatic leveling.......wrap around features that allow workers to get closer to the work surface and maneuver without dangerous lean over or gaps. The auto leveling is far safer than the current industry standard's gravity leveling system.
• Road travel ready…..platforms can be securely fastened to the vehicle before departing for the work site without any cradling attachment. This prevents the inconvenience of maneuvering the vehicle multiple times at the job site to position it for attachment. The risk of terrain and gradient for vehicles to maneuver on site to attach a platform is removed.
• Self-contained power control box.....onboard electric over hydraulic valve assembly and electronic sensors allow for unprecedented worker control. This results in more productivity, fewer hours on the job and worker empowerment. Optional pocket size radio control is available from ground or platform.
• Fall protection.....safety harness and lanyard anchors are provided for additional risk avoidance.
CraneMate insulated jib boom man baskets are available in 12 to 16 foot lengths with 300 lb capacity.
For more information about Reach-All Platforms or other products, click here to go to Utility Products' Buyers Guide.