Safety products: Self-adhering tape trap
Utility safety: Ergodyne adds self-adhering tape trap to tool connectors line.
Dec 3rd, 2015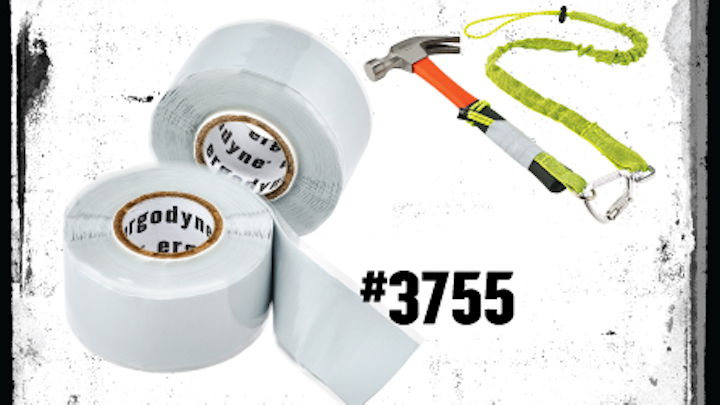 Safety products:Ergodyne announced the addition of a new Squids® Tool Connector: the Squids® 3755 Self-Adhering Tape Trap. Without the use of a heat source or messy adhesives, the 3755 creates a secure connection point for nearly any tool in a matter of seconds (when used with Squids® Web Tails™).
"Creating a secure connection point for tools shouldn't be difficult or time consuming," said Nate Bohmbach, senior product manager at Ergodyne. "The new tape trap requires zero tools for application - workers won't have to use a heat gun or clean up after a messy tool connector with the 3755."
The cut- and puncture-resistant tape is truly no muss, no fuss. Because it fuses to itself, workers can apply it without additional tools and - since it lacks adhesive - remove by simply cutting it with a utility knife. When used with the Squids® Web Tool Tails™ and Squids® Elastic Loop Tool Tails™, the Squids® 3755 Self-Adhering Tape Trap creates a tethering system that will keep your tools secure from start to finish and is third-party tested using a 2:1 safety factor.
"We're leaders in Objects at Heights safety and constantly testing new and efficient tethering solutions,"said Tom Votel, president and CEO, Ergodyne. "Adding a tape that doesn't need a heat source to secure an attachment point is a no brainer."
Ideal for those working at heights or where FME (Foreign Material Exclusion) or FOD (Foreign Object Damage/Debris) are a concern, the Squids® 3755 Self-Adhering Tape Trap is now available at all authorized Ergodyne distributors.
Key Features
• Self-adhering requires no tools for application
• No adhesives, so it can be replaced without a mess
• Fiber glass reinforcement
• Cut and puncture resistant compared to other tool tapes
• Material content and finish provides added grip to the handle of a tool
• Max safe working capacity: 8lbs. (3.6 kg) depending on length, tool, tail and lanyard used
• Third-party tested using a 2:1 safety factor
• 12ft roll (3.7m) x 1" wide (2.5cm)
About Ergodyne
Since 1983, Ergodyne has pioneered the development of safety products that Make The Workplace A Betterplace™. What started with just one product has grown into a line of top flight, battle-tested, Tenacious Work Gear®; all precision crafted to provide protection, improve productivity and manage the elements for workers on jobsites the world over. The current lineup is extensive and constantly growing including: Hand Protection, Knee Pads, Supports, Footwear Accessories, Cooling Products, Warming Products, Hi-Vis Apparel, Lanyards, Equipment Storage Systems, Performance Work Wear, Portable Work Shelters, Head Protection, and Eye Protection.
For more information about Ergodyne or other products, click here to go to Utility Products' Buyers Guide.