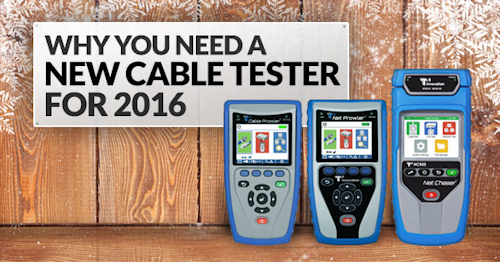 Test equipment: Cable testing technology has moved ahead in leaps and bounds, making modern digital cable testers easier to use than their predecessors while at the same time offering more features. If you are using an old tester, now is the time to take advantage of holiday season prices and upgrade to a great tester that's suited to your requirements.
Here are three advanced cable testersfrom T3 Innovation with features that simplify cable installation, commissioning and network identification. All these units can be purchased directly from our online store.
Benefits of Modern Cable Testers
So why buy a new cable tester? Well, unless your tester was bought recently, it's reasonably certain that it doesn't offer all the features you need and is probably not gigabit Internet compatible. It's also likely your tester's internal battery is starting to lose charge, which means you have to recharge it frequently and even face the possibility of it running flat when you're in the middle of nowhere.
Modern testers have large and bright full-color screens that are easy to read, even outdoors. They have sophisticated operating systems that make testing and identification of networks, IP protocols and POE easy and accurate. Most testers are able to store test results internally and upload them to a PC.
Take Advantage of These Great Deals
T3 Innovation offers an excellent range of digital cable testers, each with slightly different capabilities, designed for IT, audio and video installations. Here are some of our popular testers:
Cable Prowler
The Cable Prowler is designed for testing Cat 3 to Cat 6a data cables. It has the capability to measure the length of cat, coaxial and telephone cables. The unit can identify open circuits, shorts, split pairs and reversed connections. Using advanced Time Domain Reflectometry (TDR) technology, Cable Prowler accurately measures the distance to faults, and its user-selectable tone generator helps trace cable routing. A POE test measures wattage, voltage and current. Additionally, it has the ability to detect Internet speed capability. All results are graphically displayed. The unit comes with a large pouch, accessories and the TrakAll tone detector.
Net Prowler
The Net Prowler has the same capability as the Cable Prowler with additional functionality to identify LAN parameters. These include the ability to ping IPV4 and IPV6 addresses. The addresses discovered are listed and can be subsequently tested. Networks can be mapped and the IP address, device name and MAC address identified. LLDP and CDP protocol information can be detected and link speeds measured.
Net Chaser
The Net Chaser takes digital cable and network testing to a new level with its ability to speed-certify Ethernet cables at speeds up to 1 Gb/s. The device can measure the SNR of a network and verify if cables are able to support the network speed. Additionally, Net Chaser incorporates all the capabilities of the Net Prowler. The unit is supplied with active remotes and all cables. Additional accessories are available including a hard protective case.
Be On Top Of the Game
Take advantage of these attractive prices and upgrade your network tester so that you can use the advanced capabilities to enhance your cable testing in 2016. T3 Innovations comparison chart is an ideal way to evaluate the Cable Prowler, Net Prowler and Net Chaser to help you to select the one that's right for you.
For more information about T3 Innovation or other products, click here to go to Utility Products' Buyers Guide.