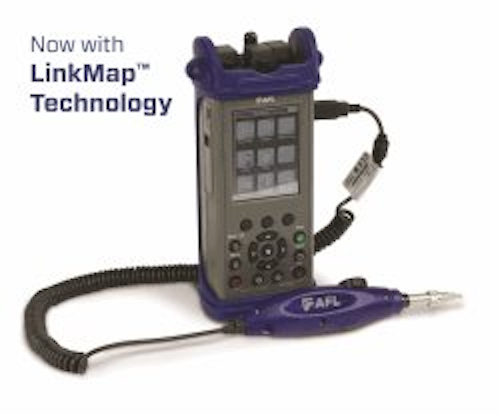 Test equipment: AFL announces its M310 optical time-domain reflectometer (OTDR) is now available with the recently introduced LinkMap, a technology that interprets the tested network and presents an icon-based view of network elements clearly identifying fiber start, end, connectors, splices, and macro-bends. With the addition of LinkMap, the M310 provides greater functionality and simplifies network troubleshooting for enterprise networks.
Originally released in 2013, the M310 OTDR accurately locates and measures events on a network without increasing the likelihood of chasing false events with TruEvent technology. Coupled with the M310 Touch and Test® touch-screen interface, users can obtain accurate locations and measurements of all events, without the confusing introduction of false events. No special knowledge, training or test setups are required to achieve these results, saving users both time and money.
"Adding the LinkMap feature to the M310 provides a more comprehensive OTDR solution for enterprise LAN/WAN customers," states Ye Rong, OTDR product manager for AFL's Test and Inspection division. "Being able to visually view events with clearly displayed pass/fail indicators helps technicians by making it easier to identify issues and troubleshoot."
The M310 is the ideal solution addressing the many testing challenges associated with data centers and enterprise LAN/WAN networks. With LinkMap, loss and reflectance of network elements is compared to user-settable pass/fail thresholds and displayed with clear pass/fail indications. Users can instantly toggle between LinkMap and Trace view at the press of a button. With launch quality check, integrated macrobend detection, LinkMap also provides a Link Summary showing end-to-end link length, loss, loss/distance and ORL.
About AFL
AFL provides industry-leading products and services to the electric utility, broadband, communications, factory, enterprise, wireless and transit rail markets as well as the emerging markets of oil and gas, mining, nuclear, avionics, medical, renewable and intelligent grid. The company's diverse product portfolio includes fiber optic cable, transmission and substation accessories, outside plant equipment, connectors, fusion splicers, test equipment and training. AFL's service portfolio includes market-leading positions with the foremost communications companies supporting OEM, outside plant, enterprise and wireless areas.
Founded in 1984, AFL is proud to offer engineering expertise, exceptional products and reliable service that help our customers improve their critical and electrical infrastructure. AFL has operations in the U.S., Mexico, Europe, Asia and Australia. The company is headquartered in Spartanburg, SC and is a wholly-owned subsidiary of Fujikura Ltd. of Japan.
For more information about AFL or other products, click here to go to Utility Products' Buyers Guide.