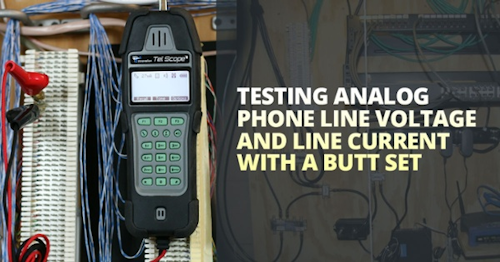 Test equipment: One of the most valuable instruments used in telecommunications technology these days is the butt set. This extraordinarily handy little tool looks very much like a standard telephone handset that might be used to scan bar codes in a warehouse to record inventory transactions. However, in telecommunications applications, this useful and very versatile tool is instead used to detect opens and shorts, as well as for the detection of noise and transmission loss, and a wide range of other voice line problems.
Butt set toughness
Butt sets have telephone functionality and are often used to make calls to speak with personnel inside or outside a building when some kind of diagnostic testing is in process. As a matter of fact, that's where the 'butt set' name came from originally – technicians would 'butt in' on analog calls in progress while testing.
In order to carry out the diagnostic testing it is most useful for, the butt set must be able to withstand environmental conditions with no loss of functionality or precision. Since technicians are famous for unintentionally abusing their tools and instruments, butt sets must be made very durable, so as to be tolerant of drops, pounding, and scraping against walls and other equipment as technicians squeeze into testing areas.
Capabilities of butt sets
When testing analog phone line voltage or line current with a butt set, a high premium is placed on convenience and efficiency, and this requires features like huge belt clips, pause buttons, memory storage and recall, amplified speakers, speaker phones, polarity indicators, and last number redial. When out in the field technicians are often placed on hold, and they'd have to physically hold the phone while waiting, with a feature like speakerphone, the technician can clip the handset to a nearby object, leaving hands free for other tasks.
There is a wide variety of butt sets available on the market today, ranging in levels of sophistication from the very simple to the very complex, so the butt set you choose for your testing will probably be contingent on the type of location where you do most of your work and the kind of testing you do most often. If most of your testing will occur indoors, a less expensive model will probably suffice. Similarly, if all you have to worry about is whether a Plain Old Telephone Service (POTS) line is dead or not, a simple butt set is all you really need.
On the other hand, if you're frequently working in central office or outside plant environments, a more capable and more sophisticated model of butt set is probably a better idea. A great many features can be incorporated into a butt set, and while that will always increase the price of the unit, in some working environments many of those more sophisticated features come into play, and provide the extra functionality needed to do the kind of comprehensive and accurate testing sometimes required of a communications technician.
Testing analog phone line voltage and line current
One of the biggest threats to data lines, and the interruption of critical data traffic can be accidentally clipping on to the wrong pair in a wiring closet or cross-box. This can take down a PBX or server, so a communications technician needs to ensure that data is protected by the test equipment being used. This makes it critical to have an intelligent test set that can check for the presence of data as soon as a technician clips onto a line, and abort the testing procedure immediately. Data lockout and override protection can alert the technician to the presence of data, so that testing mistakes can be avoided.
When POTS service is actually present in an analog line rather than a digital data line, the normal voltage reading is somewhere around 50 volts. The presence of the 50 volt value indicates that phones on this line are on hook and there is a complete circuit, and if this voltage value is something considerably less, for instance between 3 and 9 volts, it probably means that there is a break in the line, or a phone is off the hook somewhere. Where this condition is in effect, typically between 15 and 20 milliamps of DC current is drawn, which represents a DC resistance of about 180 ohms. Ringing a telephone requires a voltage of about 90 volts to be applied to the line, so an incoming call can be detected by this increased voltage.
The Tel Scope Butt Set
The T3 Tel Scope Butt Set from T3 Innovation is a cutting-edge field instrument that can provide telecommunication line analysis, and deliver more line condition information than any other butt test set currently available in today's market. It's ideal for field use because of its durable rainproof housing, and at night, the large back-lit LCD and glow-in-the-dark keypad provide crucial functionality and visibility.
It provides numerous features all in a single handset, that most other test sets can't come close to matching. The Tel Scope Butt Set has on-hook voltage and off-hook current readings, amplified line monitoring, detection and identification of DSL and T-1 lines, DTMF digital capture. It has a soft key menu system for ease-of-use, and the patented Data Defender™ keeps digital lines safe. Everything you need for precision testing of analog phone line voltage and line current is included in this high-tech, ultra-capable butt set.
For more information about T3 Innovation or other products, click here to go to Utility Products' Buyers Guide.