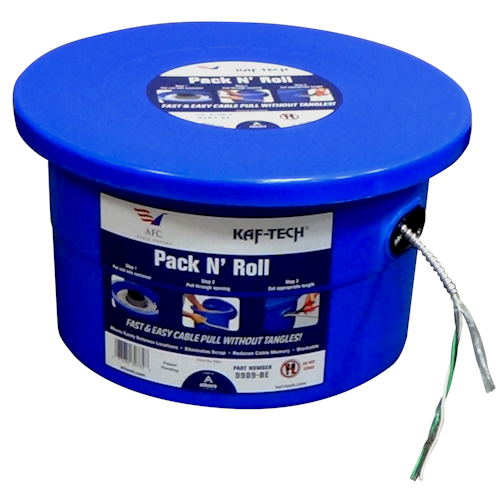 Line construction: AFC Cable Systems, a manufacturer of electrical products, announces two new time-saving accessories in its full line of solutions for installing cable products ­ the MC SnapIt 4-inch stud strap and the Pack N' Roll cable dispenser.
The MC SnapIt 4-inch 2-circuit metal cable/low voltage stud straps helps meet cable support requirements and eliminate unsightly sagging, while making installing metal clad cable on metal studs inside a wall fast and easy. The sturdy UL-listed polycarbonate straps snap directly on to standard 4-inch studs with no tools. Using SnapIt stud straps saves time. No longer do installers have to put down their cable-installing tools to pick up screwdrivers or wire cutters to install other stud strap types like metal clamps and cable ties.
Designed to hold metal clad (MC) and armored (AC) cable in sizes from 12/2 through 10/3, SnapIt also includes clips for low voltage cable. SnapIt withstands harsh environments and is suitable for indoor use, with maximum operating temperature rated at 176°F (80°C). The product is also available in 2-inch and 6-inch versions.
The patented Pack N' Roll MC and AC cable dispenser is a heavy-duty cable accessory that helps electrical contractors unravel coil quickly and easily, while still keeping it in coil form rather than pooling in a pile where it is subject to knotting.
With a capacity of up to 250 feet, Pack N' Roll makes it fast and easy to pull cable without any tangles, prevents cable damage, reduces cable memory, and eliminates scrap. It keeps cable organized, neat and clean ­ and easier to clean up when the job is complete.
About AFC Cable Systems:
AFC Cable Systems Inc., part of Atkore International, is a leading manufacturer of electrical products, tracing its origins to 1926. AFC supplies a broad range of innovative, cost-saving products to the electrical industry. These products include: armored and metal clad cables, flexible metal conduits, non-metallic, and liquid-tight conduits as well as modular wiring systems, and electrical fittings. AFC Cable Systems provides products used in new construction, restoration and modernization of commercial office buildings, institutional facilities, healthcare, and more.
For information about AFC Cable Systems or other products, click here to go to Utility Products' Buyers Guide.