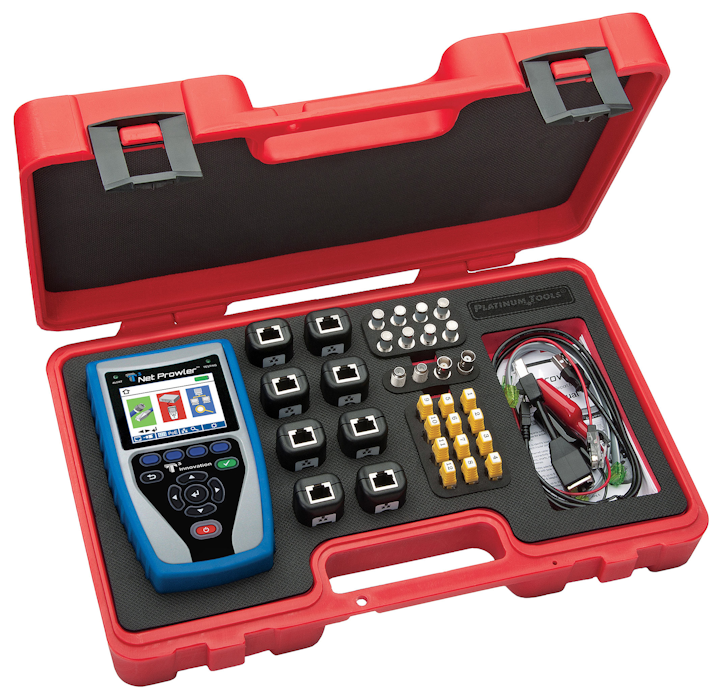 Test equipment: Platinum Tools, a provider of solutions for the preparation, installation and hand termination of wire and cable, will debut the Net Prowler™ Pro Test Kit during CEDIA Expo 2015, held in Dallas from Oct. 15-17 at the Kay Bailey Hutchison Convention Center, booth # 6606.
"The Net Prowler™ combines network testing (physical layer and link), IP device address mapping, cable troubleshooting and PoE voltage testing in a handheld tester with a full-color display…all with the capability of saving and printing test results from a personal computer," explained George Jang, Platinum Tools product manager. "The Net Prowler™ provides full cable testing on any category network, coax, or telephone cable. It will display wire map, numbered ID remotes, and any faults, including shorts, opens, miswires, split pairs, and reverses."
The full-featured Net Prowler™ measures cable length (using TDR technology) and generates tone levels for signal tracing and cable identification on all pairs, a selected pair, or a selected pin. The unit also enables quick identification of a network drops link capability and current link status. Net Prowler™ also tests the presence of PoE on the network drop and what class of PoE per IEEE 802.3 af/at with load test for voltage drop. These network tests can also be saved for record keeping and printing using the companion software application.
Packed together with different adapters in a hard-shell carrying case, the Net Prowler™ Pro Test Kit offers the professional installer a complete and versatile solution at a significantly reduced price than if each component was purchased separately.
The Net Prowler Pro Test Kit (p/n TNP850K1) includes:
• Net Prowler™ Main Unit
• #1-8 Network/Tel Test and ID Smart Remotes
• #1-8 ID and Test Coax Remote Set
• #1-12 ID-only Data Remote Set
• Micro USB Cable
• No-Fault Cable – (Qty 2)
• RJ45 Port Saver
• RJ45 Alligator 12 Inch
• F Female to F Female Adapter F81 – (Qty 2)
• BNC Female-to-F Female Adapter
• BNC Female-to-F Male Adapter
• Durable Plastic Case
• Quick Start Guide
• Warranty Activation Card
For more information about Platinum Tools or other products, click here to go to Utility Products' Buyers Guide.