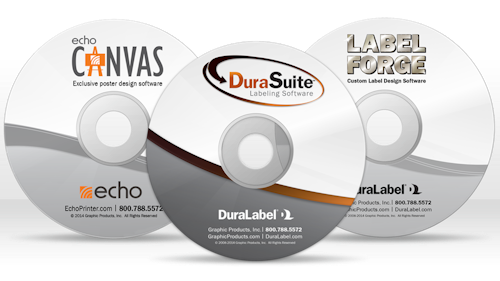 Utility equipment: Users can now download Graphic Products' design software, which support DuraLabel and Echo printing systems. The innovative visual communication software included with various printers, and designed for general safety and regulatory compliance, as well as educational and administrative functions.
"Software is the backbone of an efficient visual communication program," said Jeff Woods, safety compliance analyst with Graphic Products. "With it, you can create ANSI compliant pipe markers, OSHA compliant HazCom labels, or simply warn employees to wear PPE."
The download pages provide helpful screenshots of the software in action, video tutorials, and compatibility listings. Users with a DuraLabel or Echo printer can download the complete software, free of charge, for instant use. Don't have a printer yet? Test run the software with a free download.
Graphic Products offers the following proprietary software:
• DuraSuite Labeling Software – Use compliance-oriented modules to create a variety of standardized label formats. The software includes a library of over 1,800 symbols and a database with information on more than 1,500 chemicals.
• LabelForge Labeling Software – Users can create customized label designs from scratch, including linear and 2D barcodes. The software allows users to add standardized symbols or custom images, and even import data from a spreadsheet or database.
• Echo Canvas – Design eye-catching posters and banners with software that includes tools to create shapes, charts, and calendars, along with a library of over 6,500 clipart images
About Graphic Products
Graphic Products is an innovative leader, providing solutions for safety and visual communication since 1970. The company's full line of safety products, services, and DuraLabel line of industrial label printers are designed for the modern workforce. Graphic Products leads the industry with safety training materials, educational resources, and up-to-date news and compliance information on topics like arc flash, chemical labeling, and pipe marking.
For more information about Graphic Products or other products, click here to go to Utility Products' Buyers Guide.