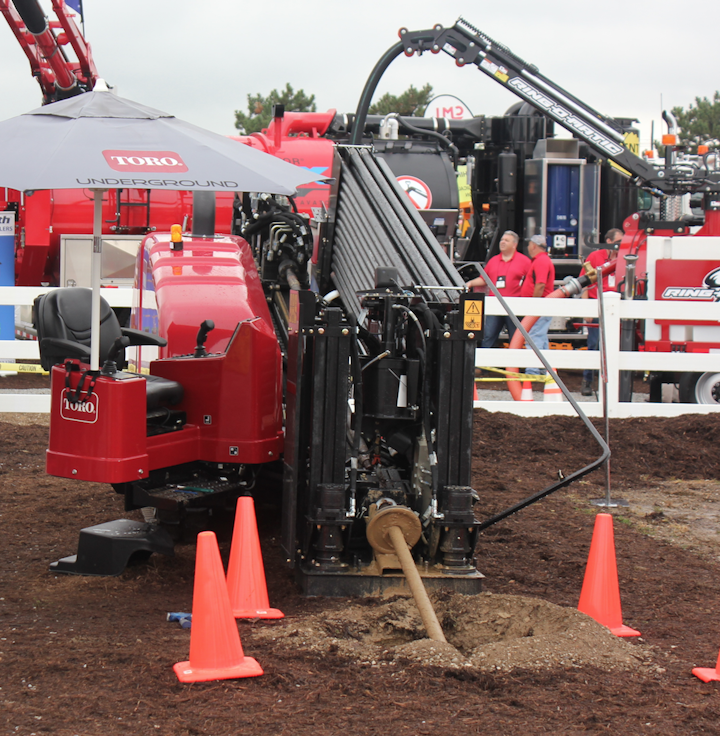 Utility equipment: Building on the solid performance of the Toro® DD4045 horizontal directional drill (HDD), Toro introduces the newest addition to its horizontal directional drill (HDD) product line -- the DD4050. The HDD unit offers a number of new features to complement the existing HDD product line, including increased rotary torque, re-styled guarding around the stake-down area, and a software upgrade to Toro Drill Operating System, or TDOS 1.
The innovative DD4050 offers 5,000 ft-lb of torque for improved performance in challenging conditions. The additional torque can aid in the boring process through tough terrain, including hard rock drilling applications. The operator can control and monitor all functions of the drill head from the integrated LCD display, all in the same small footprint that contractors have come to appreciate.
Additional features found on the all-new DD4050 include re-styled guarding around the stake-down area. In addition to providing a better vantage point to the pipe entry area, the operator will also appreciate the improved overall visibility from the well-appointed operator's station. Another key feature integrated into the DD4050 is the software upgrade to TDOS 1, which provides streamlined drill controls for increased load/unload cycle speed. This functionality, coupled with improved navigation and the ability to monitor drill idle time and total engine hours, is designed to deliver increased operator productivity.
"In terms of productivity, the DD4050 is a real powerhouse when considering its size," explains Joshua Beddow, marketing manager at The Toro Company. "The increased rotary torque is really going to help utility contractors power through less-than-ideal conditions, and the Toro Drill Operating System, TDOS 1, provides an extremely user-friendly experience for HDD operators."
The DD4050 is also available with an optional enclosed, climate-controlled operator's cab to provide comfortable operating conditions in inclement weather.
For more information about Toro or other products, click here to go to Utility Products' Buyers Guide.