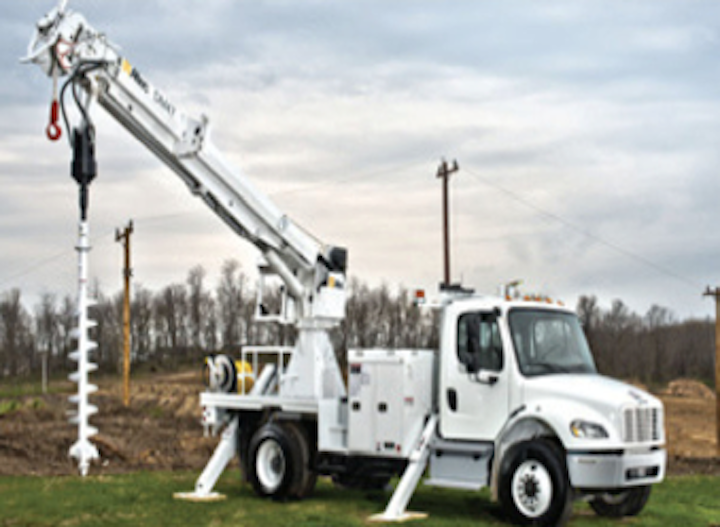 Utility poles: Utility Tool & Trailer's portable auger stand was developed with safety in mind. It provides a secure stand for the auger when transitioning from auguring for poles to anchoring. There are times when the auger cannot simply be screwed into the ground for removal, due to truck positioning, existing underground facilities, frost, customer lawns, and other constraints. The portable auger stand provides a safe and secure way to keep the auger positioned upright to ease the process of auger removal and reattachment. Setup is simple. The auger shaft clamp collar attaches to the auger shaft below the windup stud so once installed it will not interfere with digging operation or stowing of the auger.
The benefits of using the universal Auger Up includes reduced worker related injuries, the elimination of possibly drilling into underground utilities, it is light in weight and has a compact design for convenient storage.
Specifications:
• Support s augers ranging from: 4.5"dia. X 4ft. tall up to 24" dia. X 12 ft. tall
• Center cup measures 4.5" inside dia. with adapter plate available for larger pilot tips
• Stowed Dimensions: 15" Wide x 15" Height x 19" Deep
• Weight: 42 lbs.
• Load Capacity: 500 lbs.
• No tools or ladder required
• Deploys in less than a minute
• Allows operators to safely remove and store all types of augers on any surface
About Utility Tool & Trailer Inc.
For over 75 years Utility Tool & Trailer Inc. (UTT) has been providing niche market products to both the Military and Utility industries. We specialize in the manufacturing of trailers and components as well as providing Welding, Painting and Engineering services to a variety of customers. Here at UTT, we are proud to be ISO 9001:2008 Certified (USO7/1133.00) as well as being ITAR Registered (M26349). This, along with our longevity, shows our continued commitment to delivering you the highest quality product available on the market. We look forward to working with you!
For information about Utility Tool & Trailer or other products, click here to go to Utility Products' Buyers Guide.