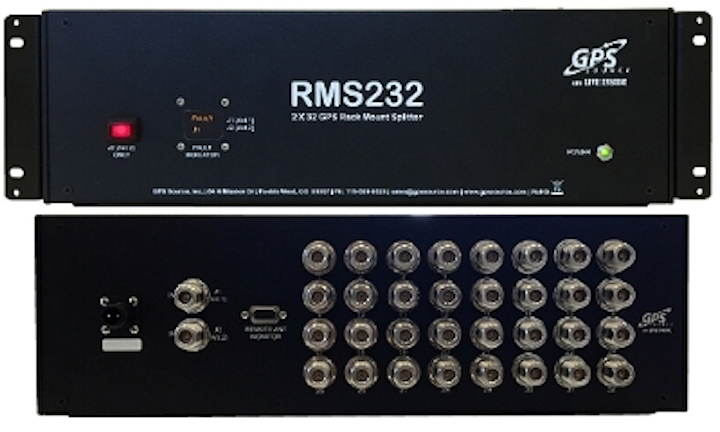 Utility equipment: GPS Source has released a new GPS/GNSS rackmount splitter with dual antenna inputs and antenna health monitoring. Developed for the wireless industry, the dual input rackmount splitter provides a GPS timing signal to up to 32 GPS/GNSS synchronization modules and receivers. Its unique design ensures the GPS timing signal is always available, even in the event of an antenna or cable failure.
Like GPS Source's already popular GPS rackmount splitters, the new rackmount splitter amplifies and splits the GPS/GNSS signal. However, the new splitter also includes dual GPS antenna input ports, a health monitor and sensor switch. Up to 32 GPS/GNSS receivers or timing synchronization modules can access the signal at one time. Antenna redundancy is acquired through the use of primary and backup antennas. The sensor monitors the health of the primary antenna connected to the splitter. Based on the information provided by the sensor, the splitter will automatically switch antennas. The ability of the splitter to switch antennas allows all connected GPS devices to remain fully functional in the event of an antenna failure, which is so important in today's wireless environment.
Robert Horton, CEO of GPS Source, said, "The demand for high-speed wireless internet and data network access over a wide area has grown at a record pace. This growth has led to a strong demand for solutions that support more than one function because of limited space and increased usage. The new rackmount splitters, RMS216 and RMS232, will keep multiple timing synchronization modules operating for an extended period when a GPS antenna or cable fails. This extended period gives a solution provider supporting a cell site, base station, or DAS network, the ability to identify and fix any GPS/GNSS antenna or cable problem before other challenges arise."
Founded in 2000, GPS Source, Inc. designs and manufactures GPS signal distribution products that support telecom, manufacturing, timing, and defense markets. GPS Source creates unique solutions that bring GPS inside for the defense, aerospace, commercial, and public sectors. Their solutions enable GPS equipment to acquire signals in otherwise denied environments, such as in the cargo compartment of military aircraft, aircraft maintenance hangars, train tunnels, etc., GPS Source, Inc. is a veteran owned small business and an AS9100 certified company.
For more information about GPS Source or other products, click here to go to Utility Products Buyers Guide.