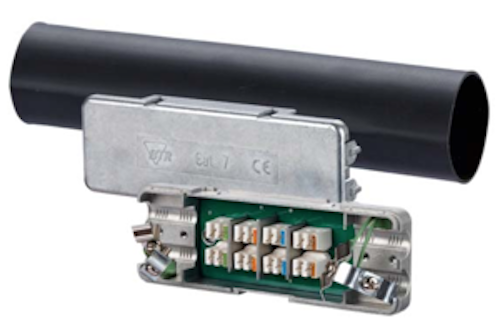 Utility equipment: METZ CONNECT's IP67 rated cable connector connects/extends data cables up to Cat 7A data speed. The cable connector achieves its IP67 rating due to its heat shrink tubing. The connector complies with Class E to ISO/IEC 11801 Ed.2.2:2011-06 in combination with Cat 6, Cat 6A, Cat 7 and Cat 7A cables and Cat 6 connectors.
Wires can be terminated quickly using our LSA-PLUS crimp tool (P/N 130818-E) and the dual sided cable feed can accommodate data lines of AWG 26/1 to 22/1. These features, along with a fully shielded metal housing, strain relief, and separate captive 360° shield connection make this connector ideal for the utility, oil and gas, and shipbuilding industries as well as factory maintenance and repair applications.
For more information about METZ CONNECT or other products, click here to go to Utility Products' Buyers Guide.