Power distribution blocks are configurable
Power distribution design: BURNDY announces VERSIPOLE configurable power distribution blocks in finger-safe or open styles.
Jul 15th, 2015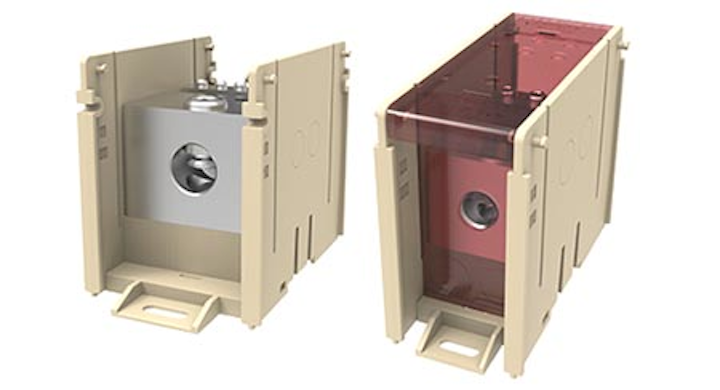 Power distribution: BURNDY®, a manufacturer and provider of connector solutions to the industrial, energy, construction, telecommunication, petrochemical, data center, and transportation industries, announces the introduction of VERSIPOLE™ Configurable Series Power Distribution Blocks. These are typically used in electrical panels and wire ways for splicing cables and distributing power from primary run(s) to secondary/branch circuits.
These blocks are listed to Standard UL1953. Each configuration is also now available in an "Open" style and "Finger-Safe" style. Finger-Safe styles include a plastic top cover and plastic end plates that protect from accidental contact with potentially energized surfaces and meet requirements of IEC 60527 with an IP-20 rating. Although offered in standard 1, 2, or 3 pole configurations to support a variety of common run and tap combinations, the configurable series can also be designed to accommodate an infinite number of made-to-order combinations. Adders are available to expand the number of poles of an existing configuration. Optional translucent polycarbonate hinged covers for use with the "Open" style are available separately to provide increased user protection.
About BURNDY
Headquartered in Manchester, New Hampshire, BURNDY has more than 90 years of dedicated customer support in both service and product. Our customers need to look no further than BURNDY for all their connector, tool, and accessory needs with our BURNDY Engineered Systems of coordinating dies, connectors and tools. The three elements have been specifically designed to work together and engineered to meet stringent, accepted quality standards – providing the user complete confidence in the integrity of the connection.
For more information about BURNDY or other products, click here to go to Utility Products' Buyers Guide.