Substation hot stick is heavy duty
Safety products: Utility Solutions introduces a new telescoping, heavy-duty substation hot stick.
Jul 29th, 2015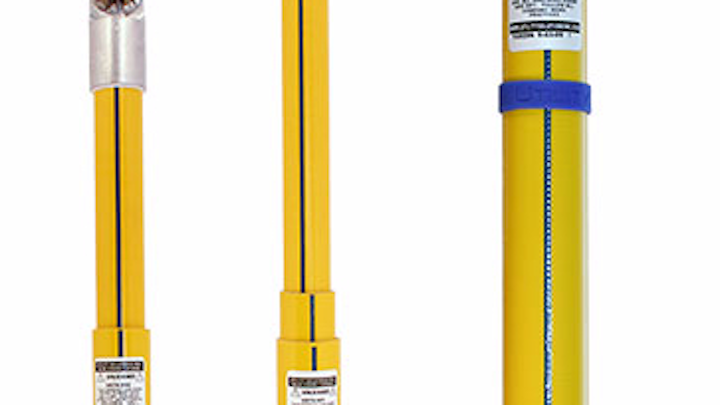 Safety equipment: The Blue Stripe® Telescopic Hot Stick line has expanded again with the addition of a new substation stick. Responding to customer demands, Utility Solutions Inc. has created a Heavy Duty Substation Stick with several unique features to handle the extreme substation environment.
Extreme forces can be applied to fiberglass insulating sticks when operating large switches in substations. A standard fiberglass stick would break under these forces. "We have been able to create fiberglass sections with a much larger wall thickness", says Matt Nolte, engineer for Utility Solutions, Inc. "These heavy duty sections allow our stick to handle tremendous forces."
Space is another obstacle for substation applications. The new Blue Stripe® Heavy Duty Substation Stick is telescopic. This allows for an 18.5 foot stick to collapse to 7 feet 8 inches. Not only does this allow for storage on site, but this stick can also be transported on existing vehicles.
Being a telescopic stick, the buttons will take a great deal of force. This lead Utility Solutions Inc. engineers to design a unique Dual Button system. Each section locks into the next using two buttons versus a traditional single button. The Dual Button design insures durability, while the patented Blue Stripe Alignment Feature, found on all Utility Solutions Inc. sticks, offers ease of use.
Utility Solutions, Inc. has a history of responding to customer demands for products. This new substation stick is no exception. The BLUE STRIPE® Heavy Duty Substation Stick is available in two sizes: a 2-section 13-foot model (USTS-H02), and a 3-section 18.5-foot model (USTS-H03). Both are available now and will be on display at this year's ICUEE show in Louisville, KY, in booth #2352.
About Utility Solutions Inc.
Utility Solutions Inc. is a designer and manufacturer of hot line tools and products for the electrical power industry. Founded in 1990 by engineers with broad electrical distribution experience, Utility Solutions has accumulated an impressive list of innovative and patented products that directly relate to a lineman's job.
For more information about Utility Solutions or other products, click here to go to Utility Products' Buyers Guide.