Safety equipment: Ground penetrating radar for utility mapping
Safety products: MALÅ's Easy Locator Pro is an end-to-end, easy-to-use ground penetrating radar (GPR) solution for utility mapping.
Jul 10th, 2015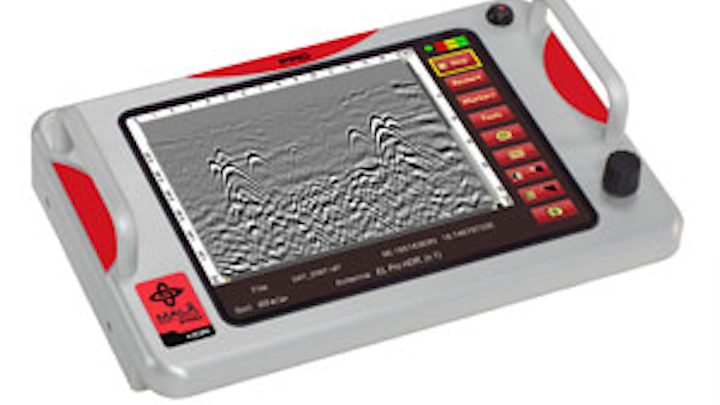 Test equipment: The MALÅ Easy Locator Pro is an end-to-end, easy-to-use ground penetrating radar (GPR) solution designed for utility mapping. It is the first Easy Locator being able to export data to stand-alone software and comes bundled with MALÅ ObjectMapper Windows software. The MALÅ Easy Locator Pro is a complete solution, from data acquisition to reporting.
Buried utilities are assets that need to be protected. It is essential to obtain precise and reliable information about location and depth of buried infrastructure. The MALÅ Easy Locator Pro offers a non-destructive utility mapping solution to gather subsurface information from both metallic and non-metallic targets.

MALÅ Easy Locator Pro is faster, more accurate and offers higher resolution and significantly better depth of penetration than its first generation forebear. The MALÅ Easy Locator Pro delivers outstanding data quality, making interpretations easier and more accurate. Together with its built-in DGPS and the MALÅ ObjectMapper software, it is the most cost effective GPR mapping solution currently available.
HDR enabled solution
High Dynamic Range (HDR) is based on modern real-time sampling technology and provides the MALÅ Easy Locator Pro with significantly faster data acquisition rates, greater signal to noise ratio, and increased bandwidth.

In practice MALÅ Easy Locator Pro will deliver higher resolution data and better depth penetration than conventional, non-HDR based, GPR systems.
MALÅ ObjectMapper - software included
The beauty of MALÅ ObjectMapper is that power and efficiency is not compromised by its simplicity. It is a software tool built and optimized for a single purpose, to help interpreting radar data and simplifying the process to find buried utilities.
The Easy Locator Pro Controller is capable of creating an ObjectMapper project directly in the field, and then guides the user to complete the survey. The whole project is then imported into the MALÅ ObjectMapper software for processing, interpretation and reporting.
The MALÅ ObjectMapper concept is optimized to compress the data-to-delivery time and advances saving from fast data acquisition and project generation by the MALÅ Easy Locator Pro, through rapid data interpretation and onto one-click output of deliverables in popular formats such as DXF and KMZ (through MALÅ GPS Mapper). MALÅ Object Mapper supports the high resolution 32-bit data format (*.rd7) and is a MALÅ proprietary software created by and for utility locating professionals.
For more information about MALÅ or other products, click here to go to Utility Products' Buyers Guide.