Utility tools: Adjustable-length screwdriver
Utility supplies: Klein Tools introduces adjustable-length screwdriver. Alter the length and bit you need on the fly.
Jul 29th, 2015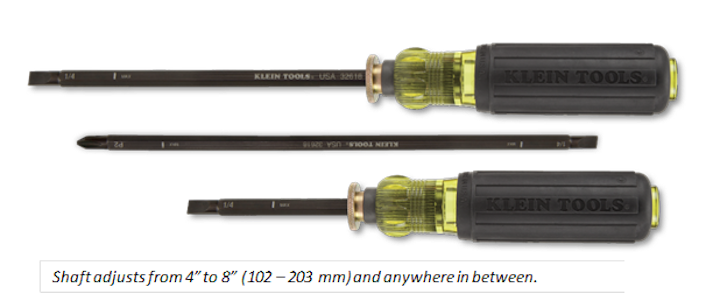 Lineman tools: Klein Tools introduces the Adjustable-Length Screwdriver (Cat. No. 32751) featuring a shaft that adjusts anywhere from 4" to 8" in length. The shaft is removable and reversible with a different tip on each end. Now you can carry fewer tools with this versatile multi-length, multi-tip screwdriver.
Among Adjustable-Length Screwdriver features:
· Removable shaft adjusts within a 4" to 8" range for numerous length choices
· Removable and reversible shaft with a different on each end
· Proprietary system securely holds blade in place ­ as durable as a traditional Klein fixed blade screwdriver
· Cushion-Grip handle for maximum comfort and torque
· Made in the USA
"Klein is constantly researching and identifying ways to make the electrician's job easier," states David Bower, associate product manager at Klein Tools. "We created a screwdriver that easily adjusts to multiple lengths and provides different bit tips to minimize the number of tools needed to get the job done -- all with the same durability of a traditional Klein fixed blade screwdriver."
For more information about Klein Tools or other products, click here to go to Utility Products' Buyers Guide.