Work light: 20-ft. three-stage light mast
Utility equipment: Larson Electronics releases a 20-ft. three-stage light mast on 10-ft. ski axle trailer.
Apr 17th, 2015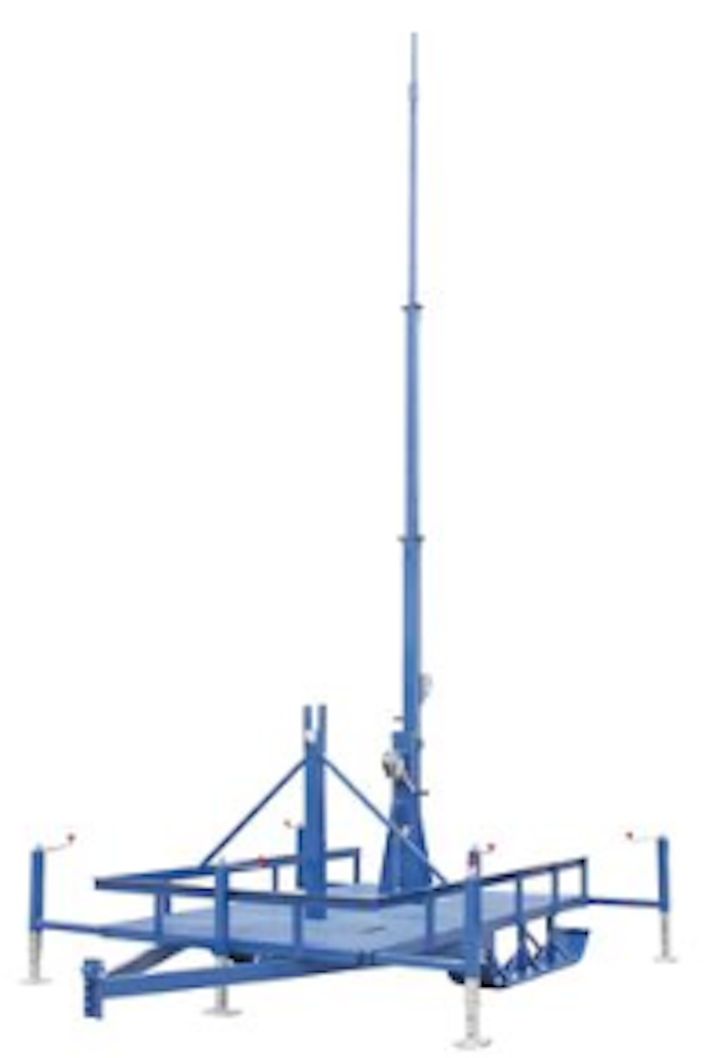 Utility supplies: Larson Electronics continues its commitment to providing high-grade lighting equipment to specialty markets with the release of a 20-ft. three-stage mast mounted to a 10-ft. ski axle trailer.
The LM-20-3S-10TLR-SKI telescoping three-stage steel is designed to allow operators to quickly deploy lights, security cameras and other equipment to elevations up to 30 feet. This tower folds over for easy transportation, features a rotating boom that allows for 360° of rotation, and a removable masthead for storing mounted equipment when not in use. The entire assembly is mounted on a 10-ft. foot single axle trailer with skis, allowing operators to transport the boom from one location to another on ice and snow. The mast and trailer are powder coated with a glossy blue finish for corrosion resistance and aesthetics.
This mast can be extended to 20 ft. above the trailer floor for maximum area coverage, and collapsed to 9 ft. This tower is constructed of steel square tubing with a lower section, a middle section, and an upper section measuring in different lengths for each section. It's elevated using an included 1,000 lb. rated hand winch with 3/16 in. galvanized steel cable and extended to its full height using a second 1,000 lb. winch. This mast is mounted to a 10 ft. by 6 ft., single axle trailer via six 12 in. anchor bolts. The trailer bed is constructed of expanded metal to help prevent ice buildup on the bed platform, allowing snow and rain to flow through the trailer instead of building up on the deck. The dual ski trailer is equipped with 3,500 lb. leaf springs and metal snow skis. The trailer can support and haul an additional 1,000 lbs. of equipment. Four 1,000-lb. hand crank leveling jacks are used for leveling and can be extended 2 ft. out from the side of the trailer for added stability. Three additional 1,000 lb. jacks help prevent the skis and tongue from freezing to glaciers and help break the trailer and skis free after freezing.
"As a manufacturer, we can customize these masts with different height requirements and different light heads to meet the customers' expectations," said Rob Bresnahan with Larsonelectronics.com. "This particular unit was designed without running, signal, or tail lights and is recommended for off-road use only."
Larson Electronics carries an extensive line of LED light towers, portable power distribution systems, explosion proof lights, portable work lights and industrial grade LED area lights.
For more information about Larson Electronics or other products, click here to go to Utility Products' Buyers Guide.