Energy management: Trailer based hybrid power source with fuel cells
Power management: SFC Energy introduces new EFOY ProTrailer series - a trailer based hybrid power source with fuel cells.
Apr 16th, 2015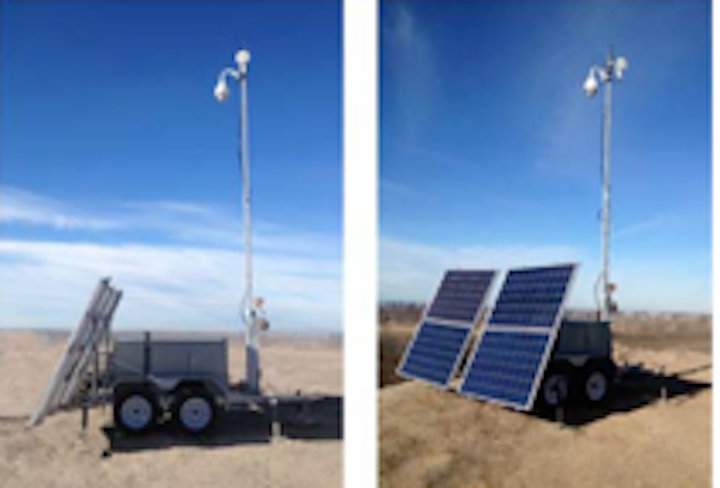 Utility equipment: On the occasion of ISC WEST, the largest security industry trade show in the United States, SFC Energy AG, a provider of hybrid power solutions to the stationary and mobile power generation markets, introduces a new trailer based hybrid power solution for security & surveillance, communication, oil & gas and traffic management applications.
• Reliable mobile off-grid power source for security & surveillance cameras, communication equipment, oil & gas and traffic management applications
• Fully automatic power for up to many months without requiring user attendance
• Hybridization with solar module enables 24/7 power availability at attractive operating costs
First sales for the new trailer, which was developed by Simark Controls, a company of SFC Energy, started in November 2014 with trailers sold into security applications for the Canadian Oil & Gas Industry. Further EFOY ProTrailers are on order for delivery in April 2015 from various customers.
The EFOY ProTrailer integrates SFC Energy's popular EFOY Pro fuel cells with up to four solar modules for optimum power flexibility. The combination of fuel cells and solar modules combines the two power sources for optimum cost attractiveness: As long as the sun shines, the required power will be produced exclusively by the solar modules, with zero fuel consumption. Only when the solar modules will not deliver enough power in bad weather, in the dark season, or in the shadow of a building or a tree, the fuel cells will automatically start operation and fill the power gap. The result: 100 percent reliable power in any weather and season at attractive operating costs.
Like all EFOY Pro energy solutions the new EFOY ProTrailer enables extremely long power autonomy without requiring any user attendance. It comes fully equipped with an EFOY Pro 2400 Duo fuel cell, two or four fuel cartridges, up to four solar panels generating up to 1,000 Wp total power, two or four batteries, and a 60 A solar charger, enabling maximum power flexibility as required in the individual application.
EFOY ProTrailer versions are available for security, traffic management, communication applications, and oil & gas configured to match the specifications and power requirements of the individual installations.
An example: For security applications the EFOY ProTrailer can be equipped with cameras with a total load of 70 W (cont.), the EFOY Pro 2400 Duo, four 28 liter M28 fuel cartridges and 560 Wp solar. The annual fuel requirement for this trailer version is approx. 140 liter resp. five fuel cartridges, so that this trailer will operate for almost a full year without requiring any user attendance.
Compared to a solar-only trailer, the new hybrid solution features a number of significant advantages: To supply the identical amount of power a solar-only trailer requires min. 2,500 Wp, compared to only 560 Wp when combined with an EFOY Pro fuel cell. For a power autonomy for five days, a standalone solar system requires ten 220 Ah batteries, each weighing 58 kg (128 lbs), totalling 580 kg (1.280 lbs). A hybrid EFOY ProTrailer requires only four batteries at a total weight of 232 kg (512 lbs). The major advantage however is that even a fully loaded solar-only trailer cannot ensure reliable power availability in bad weather or winter. With an EFOY Pro fuel cell this reliability can be guaranteed.
"The new EFOY ProTrailer is another milestone in our portfolio of integrated off-grid power solutions for demanding industrial applications", says Dr. Peter Podesser, CEO of SFC Energy. "It is our clear commitment to help operators of critical infrastructure and site equipment save operating cost and logistics with our power sources. The EFOY ProTrailer expands our offering now with a very attractive mobile plug & play version that is ready for use anywhere, anytime in just a few moments."
About SFC Energy Group
SFC Energy AG is a leading provider of hybrid solutions to the stationary and portable power generation markets. SFC is the number one supplier of fuel cells, with over 33,000 fuel cells sold to date. The Company has award-winning products and serves a range of applications in the Oil & Gas, Security & Industry and Consumer markets. The Company is headquartered in Brunnthal/Munich, Germany, operates production facilities in the Netherlands, Romania, and Canada, and sales offices in the U.S and Canada. SFC Energy AG is listed on the Deutsche Boerse Prime Standard (WKN: 756857 ISIN: DE0007568578).
For more information about SFC Energy or other products, click here to go to Utility Products' Buyers Guide.