Utility equipment: M18 FUEL magnetic drills drive safety and productivity
Utility tools: Milwaukee Tool introduces the M18 FUEL 1-1/2 in. Magnetic Drill and M18 FUEL 1-1/2 in. Lineman Magnetic Drill.
Apr 21st, 2015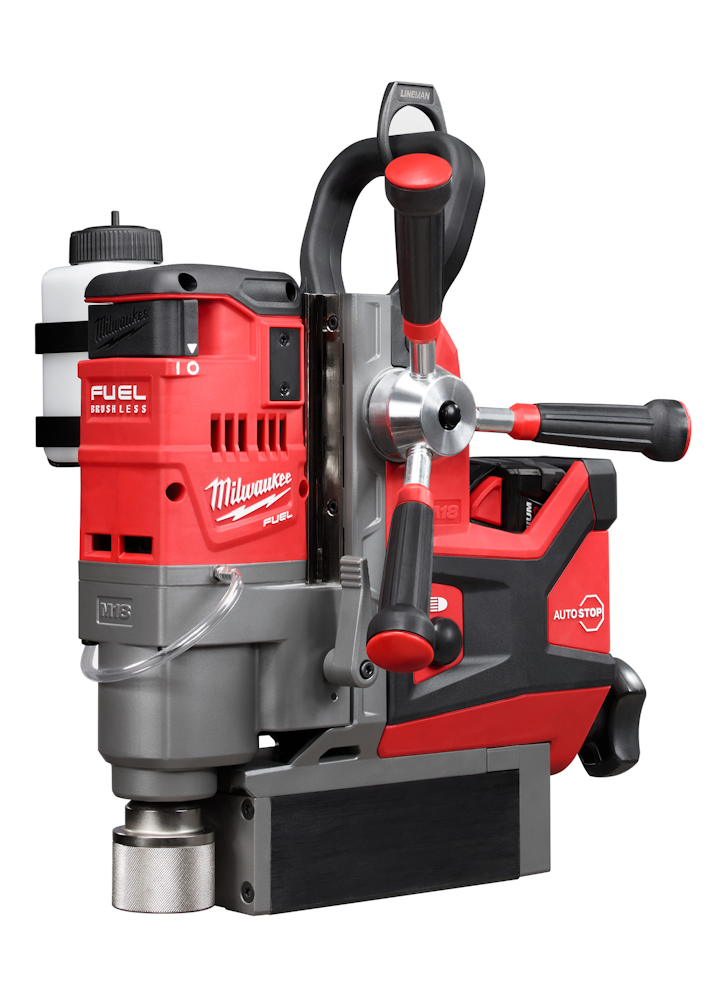 Utility supplies: Milwaukee Tool introduces the M18 FUEL 1-1/2 in. Magnetic Drill and M18 FUEL 1-1/2 in. Lineman Magnetic Drill. Part of the premium M18 FUEL line*, utilizing the most advanced technologies available, these new tools are faster than their corded counterparts, deliver the strongest magnetic hold on 1/4 in. steel, and can drill up to (40) 13/16 in. holes per charge.
"For years, this market has been shifting to more compact magnetic drills, but no one has been able to deliver a solution for the user who has limited access to power, drills vertically or overhead, and regularly encounters thin metal," says Andrew Plowman, Director of Product Marketing for Milwaukee Tool. "By utilizing Milwaukee's M18 FUEL technology, we are able to address these issues and deliver the performance and run-time that is expected by most corded magnetic drill users, while eliminating the cord and maximizing productivity."
Whether completely replacing the user's current magnetic drill or supplementing their corded line-up, the new M18 FUEL Magnetic Drills can benefit any magnetic drill user. With a focus on vertical and overhead drilling environments, Milwaukee has improved the traditional ergonomic design of the tools to speed up the positioning and drilling process in these orientations.
In addition, the new products will feature a patented magnetic base that delivers safer drilling in 1/4 in. steel by providing the strongest magnetic hold on this material. The new tools utilize permanent magnets so that the magnetic base operates without electricity; ensuring that the magnet does not deactivate if the battery is drained. Equipped with Auto-Stop lift-off detection, power to the motor is automatically cut if excess rotational motion is detected while drilling.
On top of game-changing drilling and magnet technology, the M18 FUEL 1-1/2 in. Magnetic Drills provide industry leading tool set-up and bit change speed.
"With most magnetic drills, cutting accessories are held in place with two set screws that need to be tightened down with a wrench and often get lost or stripped out, leaving the tool unusable," says Plowman. "Both drills are equipped with a 3/4 in. Weldon quick-change chuck, making accessory changes fast and easy. They also come packaged with a 3/4 in. Weldon to 1/2 in. Chuck adapter, and the ability to adjust the height of the motor head, tool-free. This provides users the ability to switch from annular cutters to twist bits, faster and easier."
Also equipped with a 2-Speed gearbox, the drills are optimized for annular cutters up to 1-1/2 in. and twist drill bits up to 1/2 in., providing maximum versatility and improved performance.
Available in July of 2015, the new M18 FUEL 1-1/2 in. Magnetic Drill & M18 FUEL 1-1/2 in. Lineman Magnetic Drill are a true testament to Milwaukee's focus on the user and investment in game changing technology.
* M18 FUEL is engineered for the most demanding tradesmen in the world. Delivering unrivaled performance, all M18 FUEL products feature three Milwaukee®-exclusive innovations, The POWERSTATE Brushless Motor, REDLITHIUM Battery Pack and REDLINK PLUS Intelligence Hardware and Software that deliver unmatched power, run-time and durability on the jobsite. Simply put, M18 FUEL tools are the most powerful 18V cordless tools in their class.
About Milwaukee Tool
Since the company began in 1924, Milwaukee Tool has led the industry in both durability and performance by providing the best in professional, heavy-duty tools and accessories. With an unwavering commitment to the trades, Milwaukee continues to lead with a focus on providing innovative, trade-specific solutions. Whether it is through their leadership in LITHIUM-ION technology, as seen in the M12, M18 & M28 Systems, time-saving accessories or innovative hand tool products, Milwaukee is dedicated to delivering a steady stream of advanced solutions for the trades that offer increased productivity and unmatched durability. Milwaukee Tool is a Brookfield, Wisconsin-based subsidiary of Techtronic Industries Co. Ltd. (TTI) (HKEx stock code: 669, ADR symbol: TTNDY).
For more information about Milwaukee Tool or other products, click here to go to Utility Products' Buyers Guide.