Video surveillance: Low-profile IP dome camera allows for discrete video surveillance
Video monitoring: Toshiba Surveillance & IP Video Products' low-profile IP dome camera allows for discrete video surveillance. Less than two inches high, the new IKS-WD6112 HD camera is optimal choice where aesthetics and a non-obtrusive security presence is required.
May 28th, 2015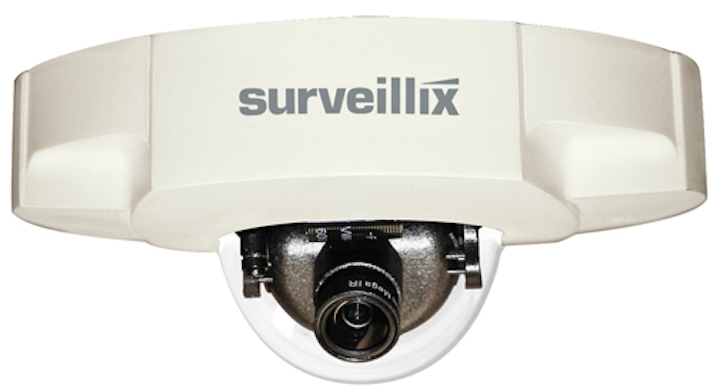 Video monitoring system: Toshiba Surveillance & IP Video Products, a business unit of Toshiba America Information Systems Inc., is now offering an ultra low-profile IP dome camera designed for indoor video surveillance that reduces IP infrastructure costs and complexity, while retaining a stylish and discreet appearance.
Although lightweight and a mere 1.75-inchs in height, the Toshiba IKS-WD6112 unleashes the full power of IP video with true HD resolution (1920 x 1080) at 30 frames-per-second to ensure smooth image capture of fast moving objects, plus bandwidth-efficient H.264 compression. Quad-streaming capabilities provide four separately configured video streams from one camera simultaneously, allowing users to optimize each stream. Quad streaming lets users configure one stream for live footage at low resolution, while recording in full HD on another.
Rounding out the camera's video feature-set are Wide Dynamic Range and electronic Day/Night imaging, so it delivers optimal performance in areas with large variation between light and dark.
Toshiba recognizes that time-saving during IP installations can significantly reduce overall system cost. The IKS-WD6112 offers a number of advantages that make installations faster and hassle-free. First, its minimal heights allows it to be installed in locations where standard cameras would be obtrusive. Second, it is ONVIF compliant for maximum compatibility with network equipment from Toshiba or third parties. Third, Power over Ethernet (802.3af) means that no electrical outlets need to be installed nearby for power. And finally, its 3.6mm/F=1.8 lens with 8x digital zoom comes pre-focused to remove a time-consuming step from the installation process.

For more information about Toshiba Surveillance & IP Video Products or other products, click here to go to Utility Products' Buyers Guide.