Power distribution system
Power management: Larson Electronics reveals a 15KVA step down temporary power distribution system.
May 8th, 2015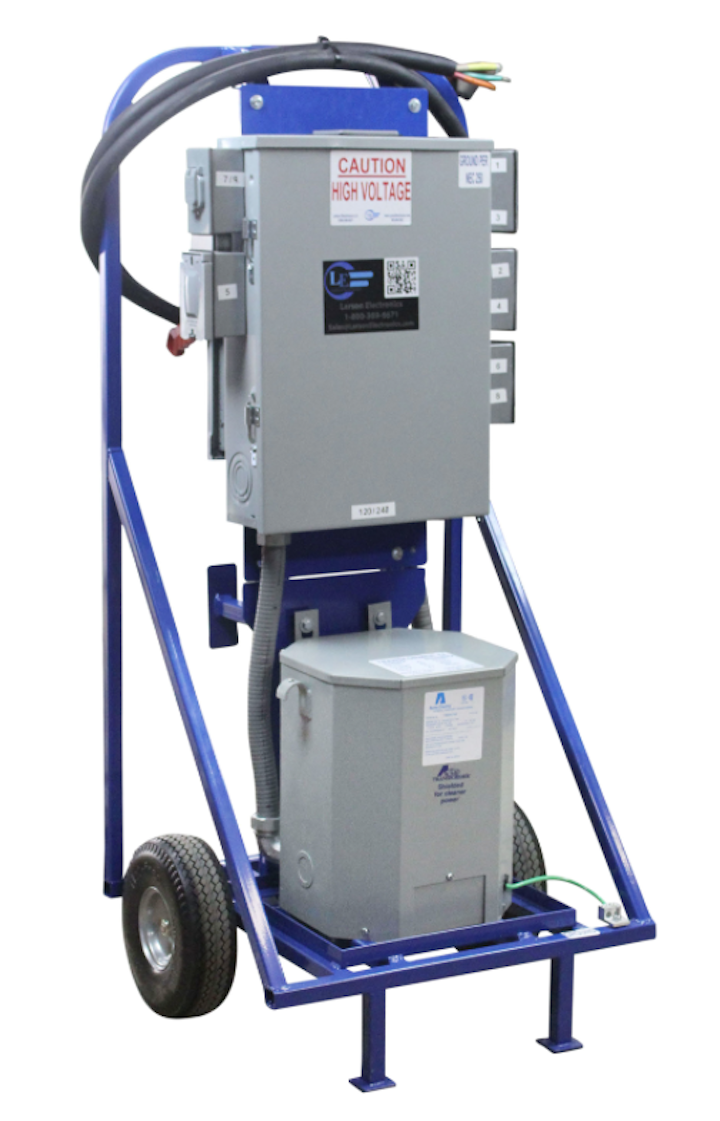 Energy management: Larson Electronics has announced a temporary power distribution system that converts 480 volts AC current to single phase 120 volts AC and 240 volts AC. The MGL15-480-120-1X240.30-6X120.20-24X24 power distribution provides operators the ability to safely tap into and distribute 480 volts AC power from a variety of sources including generators and direct grid power. This portable substation is suitable for outdoor applications with a fully potted transformer and NEMA 3R load center. This unit provides an effective power distribution system for operators performing plant turnarounds, maintenance and cleaning in hazardous areas, equipment installations and repairs, and any activities requiring an alternative to native power sources.
This transformer is designed to operate with 480 volts, three phase which is then stepped down to single phase 120 and 240 volts AC. The transformer feeds a 100 amp main circuit breaker panel that includes one 30 amp 240V breaker and six 20 amp GFCI breakers. All receptacle device boxes are industrial die cast malleable iron construction and features rigid raceways between each device box.
This dolly style cart distribution system is built on a powder coated steel frame with run-flat wheels. Operators may tilt the unit back to maneuver the unit from one location to another and place it upright to stabilize the system. The transformer and load center/distribution assembly is mounted to a standard steel cart style frame resulting in an extremely stable, durable, and mobile power distribution platform. Two rubber tires and a cart style mounting platform provide easier substation mobility. Ten foot of 6/4 Type W cable provides 480 volt service. A cord wrap is built into the frame, allowing operators to store up to 200 ft. of operator provided cable on this unit. These temporary power distribution systems are popularly used for industrial applications where external power sources are often necessary and work well in combination with explosion proof lights and equipment.
"This new design is unique in that it can fit through a 24 in. square opening by simply laying the unit parallel to the ground," said Rob Bresnahan with Larsonelectronics.com. "Once inside, the unit can be raised in the upright position for use."
Larson Electronics carries an extensive line of LED light towers, portable power distribution systems, explosion proof lights, portable work lights and industrial grade LED area lights.
For more information about Larson Electronics or other products, click here to go to Utility Products' Buyers Guide.