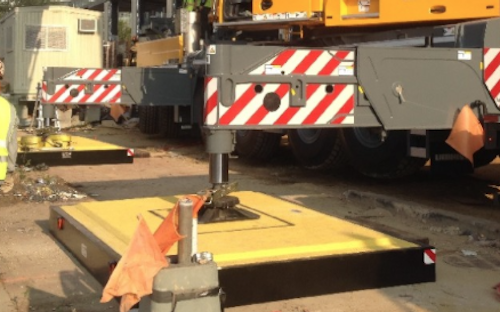 Ground protection mats: DICA's Safety Tech outrigger pads provide a super strong, rigid and easy to use foundation for a wide variety of outrigger enabled equipment. Constructed of engineered thermoplastic, they are stronger, lighter and easier to handle than wood outrigger pads and provide exceptional load distribution performance. See a comparison between DICA outrigger pads & wood outrigger pads. With a crush strength in excess of 300,000 psi and ground load ratings up to 196,000 lbs, Safety Tech outrigger pads deliver the load distribution needed in most any soil condition.
Engineered For: Aerial lifts, digger derricks, concrete pumps, and mobile cranes typically up to 100 ton capacity or other outrigger-enabled equipment requiring a strong and rigid outrigger pad. Have equipment larger than 100 tons? See our crane mats at http://dicausa.com/crane-mats-fibermax-mega-duty/
Model Info: Available in 30+ in stock models. Standard color is black with High VIZ yellow options available for D1818 and D2424 models. Safety Tech outrigger pad thicknesses range from 1.0 in. to 4.0 in. and shapes include square, round for easy rolling and rectangular dunnage.
Replacement For: Wood outrigger pads – wood is a natural material that will fatigue and has large variations in strength. Waterproofing materials used for wood outrigger pads can be easily defeated once cracking of the wood fibers occurs during use. Fasteners used to hold wood materials together are also susceptible to fatigue and failure.
For more information about DICA or other products, click here to go to Utility Products' Buyers Guide.