India, France form united front on climate change
France and India have launched the Global Solar Alliance aimed at developing solar energy and making it accessible to all
Jun 5th, 2017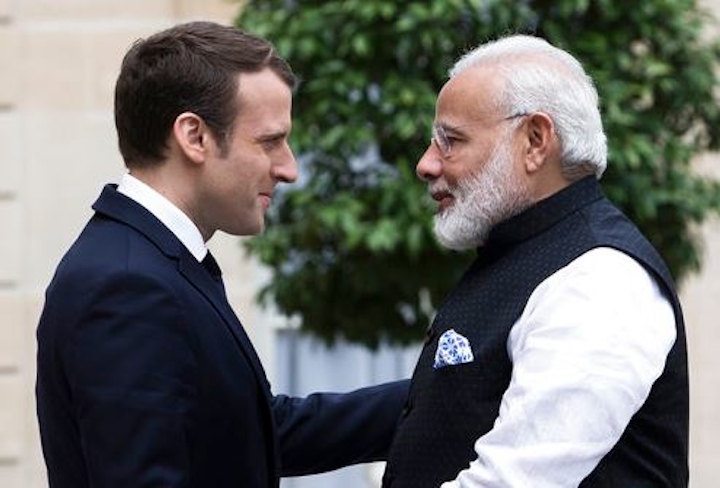 PARIS (AP) — French President Emmanuel Macron and the prime minister of India put forth a common front on the need to fight climate change on Saturday, with the French leader saying he would travel to India before year's end for a summit on promoting solar energy.
Prime Minister Narendra Modi closed a European tour meeting with Macron in Paris as world governments began adjusting to U.S. President Donald Trump's decision to withdraw from the landmark climate accord reached in and named for the French capital.
Modi delivered on France's hope that India would confirm its commitment to the Paris Agreement, saying that fighting on behalf of "Mother Planet" is a gift for future generations. India, the world's fourth-largest emitter of greenhouse gases, is a critical player in the climate pact.
"We are in favor of this Paris Agreement and we will continue to work in that direction, even beyond the Paris Agreement, even if this agreement did not exist," Modi said at the close of the two leaders' talks.
France and India have launched the Global Solar Alliance aimed at developing solar energy and making it accessible to all. Macron described it as a "concrete instrument" in the fight against climate warming, and said other countries would be brought in at the India summit.
"We are both convinced our countries have much to do for ecological and environmental transition and for the fight against climate warming," he said.
The newly elected Macron, who has made on a mark on the international stage in the month since he was elected after talks with NATO leaders and the heads of the world's richest industrialized nations, further bolstered his diplomatic credentials in meeting with Modi.
Macron greeted the Indian prime minister with a bear hug in the courtyard of the presidential Elysee Palace, while Modi said later that Macron's victory over far-right leader Marine Le Pen in May "encouraged the entire world." Macron and Modi also discussed their countries' strategic partnership. India has bought 36 Rafale fighter jets, the delta-winged French aircraft that have been a hard sell. Macron said India's defense minister will be in Paris next week and the economy minister would be visiting before the end of the month.
The two countries' industrial and military partnerships "will intensify," he said.
Before his departure, Modi laid a wreath at the Arc de Triomphe in honor of Indian soldiers who fought in France during World War I.