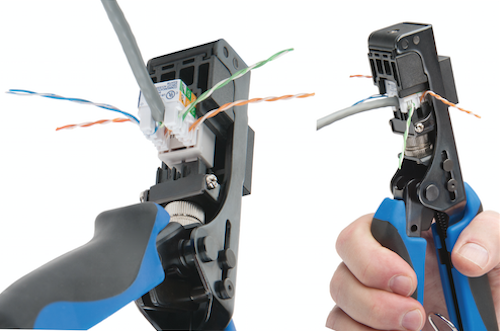 Utility equipment: Platinum Tools, a provider of solutions for the preparation, installation, hand termination and testing of wire and cable, announces the new Xpress Jack™ (p/n 13501C) keystone jack termination solution.
"The Xpress Jack is designed to make keystone jack terminations easier than ever," said John Phillips, Platinum Tools, Inc. product manager. "It seats and trims all eight conductors in one simple and smooth motion. No more punching down eight times for a single termination. The Xpress Jack saves time and energy on both small and large jobs."
Additional features of the Platinum Tools Xpress Jack includes:
• One stroke keystone jack terminations
• Heavy duty all carbon tool steel construction
• Designed for 110 type 4 pair keystone jacks
• Rust resistant black oxide finish
• Comfort grip TPR handles; reduce hand stress on large jobs with prolonged use
• Die set for Platinum Tools Keystone Jacks and other similar designs
• Die set available for 90 degree Leviton Keystone Jacks
About Platinum Tools
Platinum Tools, founded in 1997, was created based upon two very simple objectives. First, develop the absolute best possible solutions for the preparation, installation, and hand termination of wire and cable. Second, implement an operational infrastructure that can deliver these products in an efficient, timely, and high quality manner.
All of our products must absolutely satisfy three critical benchmark criteria…utility of function; quality of function; and economic value. Our people are our company. They, too, must be focused on and work to satisfy three critical benchmark criteria…customer satisfaction; product knowledge and expertise; and willingness to learn and adapt.
For more information about Platinum Toolsor other products, click here to go to Utility Products' Buyers Guide.