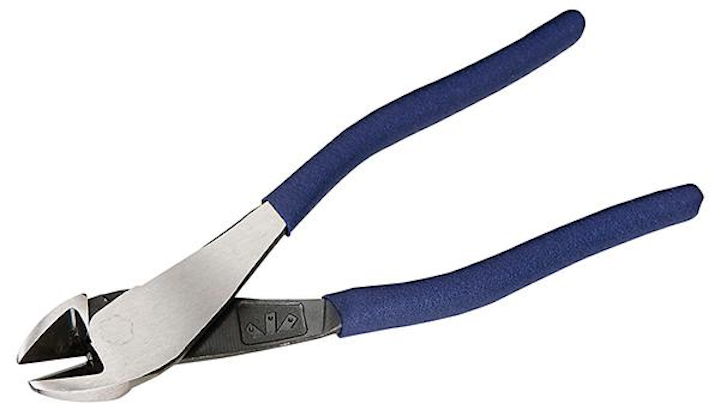 Electrician tools: Ergonomic, powerful and rugged, IDEAL professional-grade WireMan™ diagonal-cutting pliers provide electricians with a more efficient solution to the challenges of cutting hardened wire, bolts and stainless steel wire.
WireMan diagonal-cutting pliers are designed for the professional trades. The drop-forged, high carbon steel construction is exceptionally durable, plus resists rust to maintain its premium appearance. Knife-to-anvil blades are induction hardened for superior cutting ability and never need resharpening. In fact, thanks to their high-leverage design, they deliver up to 40 percent more cutting power than standard pliers. Models are available featuring a straight head and a convenient angled head for hard-to-reach areas and rocking out nails.
Electricians will find IDEAL WireMan diagonal-cutting pliers as comfortable as they are functional. All five models in the Wireman line have a narrow profile for working in tight spaces, while three feature IDEAL Smart-Grip™ Santoprene TPE handles to provide an excellent hold that is resistant to perspiration, water, oil, and chemicals. The serrated blades also yield a more secure gripping surface for a better user experience.

Like all rugged IDEAL tools, WireMan diagonal-cutting pliers are designed and manufactured to meet or exceed the highest performance standards required by professionals. They are made in the USA.
About IDEAL INDUSTRIES
IDEAL INDUSTRIES, INC. is a global, diversified family business designing and manufacturing superior products and tools for professional tradesmen in the electrical, wire processing, data communications, aerospace, automotive and construction industries. The 99-year old company was founded in 1916 on the premise of forging ideal relationships with customers, employees and communities. The company has consistently grown and expanded under four generations of family ownership.

About IDEAL ELECTRICAL
IDEAL ELECTRICAL is a Division of IDEAL INDUSTRIES, INC. The division is a global leader in the development, manufacture and marketing of enhanced energy management systems, products and technologies for professional electricians, design engineers and facilities executives.
For more information about IDEAL Industries or other products, click here to go to Utility Products' Buyers Guide.