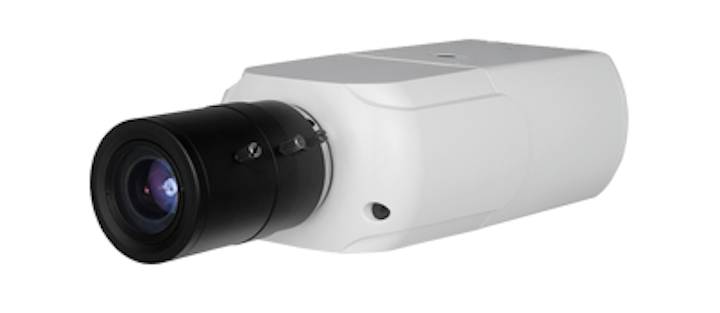 Video surveillance: Setting a new benchmark in the IP security category, Toshiba Surveillance IP Video Products, a business unit of Toshiba America Information Systems, Inc., introduced its first "Ultra HD" IP video surveillance camera, the IKS-WB9518, able to capture 4K video in 3840 x 2160 resolution at a rate of 25 frames per second.

By offering Ultra HD resolution, the IKS-WB9518 provides the high level of detail required for an enterprise to more effectively watch for intruders, capture fast moving objects, monitor large expansive areas, and assist in collecting forensic evidence when a crime has occurred. Additionally, its deployment can reduce the number of conventional HD cameras needed by nearly 50 percent due to its ability to cover very wide spaces, such as retail parking lots. This significantly cuts overall system costs while lowering future maintenance needs.

"Adding four times the pixels into a video frame empowers security professionals to cover large areas as well as to zoom into the picture for amazing details without sacrificing quality, even at great distances," said Greg Hartzell, Director of Toshiba Surveillance IP Video Products. "The IKS-WB9518 also captures better facial recognition scans, and provides for improved content analysis in people counting or vehicle plate recognition."

To deliver highly-consistent 4K sharpness across the entire frame, the IKS-WB9518 features digital wide dynamic range that optimizes image quality by adjusting the gamma (γ) value to enhance dark areas, and minimize image deterioration. It also leverages True Day Night imaging that filters out the Infra-Red for enhanced color images during day mode, yet provides all the advantages of a night vision camera in low light conditions down to 0.005 lux (B/W).

One of the chief concerns with 4K video is its large file sizes. The IKS-WB9518 integrates H.264 video compression, a technology that minimizes network strain with its efficient compression of video data. Multiple streams allow users to stream live video in 1080p HD on a standard monitor while recording it in 4K for later analysis. There is also a built-in microSD slot for edge recording to support cards with a capacity up to 64GB. This feature is invaluable in the event power is disrupted from the network switch or from the camera to an NVR.

The IKS-WB9518 is compact for mounting in tight spaces with the added advantage of PoE (802.3af) that eliminates the need to run power cables. ONVIF compliance enables seamless integration with compatible 3rd party IP equipment and video management software.
ABOUT TOSHIBA AMERICA INFORMATION SYSTEMS, INC.
Headquartered in Irvine, Calif., TAIS is comprised of three business units: Digital Products Division, Imaging Systems Division, and Telecommunication Systems Division. Together, these divisions provide digital products, services and solutions, including industry-leading portable computers; televisions, TV/DVD Combination products, Blu-ray Disc™ and DVD products, and portable devices; imaging products for the security, medical and manufacturing markets; storage products for computers; and IP business telephone systems with unified communications, collaboration and mobility applications. TAIS provides sales, marketing and services for its wide range of products in the United States and Latin America. TAIS is an independent operating company owned by Toshiba America, Inc., a subsidiary of Toshiba Corporation. For more information on TAIS visit toshiba.com/us
About Toshiba Corporation
Toshiba is a world-leading diversified manufacturer, solutions provider and marketer of advanced electronic and electrical products and systems. Toshiba Group brings innovation and imagination to a wide range of businesses: digital products, including LCD TVs, notebook PCs, retail solutions and MFPs; electronic devices, including semiconductors, storage products and materials; industrial and social infrastructure systems, including power generation systems, smart community solutions, medical systems and escalators & elevators; and home appliances. Toshiba was founded in 1875, and today operates a global network of more than 590 consolidated companies, with 206,000 employees worldwide and annual sales surpassing 5.8 trillion yen (US$61 billion). Visit Toshiba's web site at www.toshiba.co.jp/index.htm.
For more information about Toshiba or other products, click here to go to Utility Products' Buyers Guide.