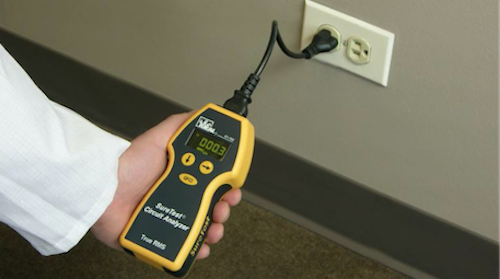 Test equipment:The SureTest Branch Circuit Analyzer from IDEAL Electrical is an easy-to-use handheld tester compatible with the latest generation of Arc Fault Circuit Interrupters (AFCI). Home inspectors, residential electricians and homeowners can certify the safe operation of AFCI breakers with the SureTest, confirming that the AFCI will detect and mitigate the effects of low level arcingbefore that arcing can become a source of ignition.
The SureTest is simple to use. It plugs into any 120V receptacle to simulate parallel arcing between line and neutral for verification of AFCI protection. Plus, it offers testing of Ground Fault Circuit Interrupters (GFCI), as well as for the presence of a shared neutral that commonly leads to AFCI nuisance tripping. What's more, it identifies proper wiring in 3-wire receptacles, including false (bootleg) grounds and isolated grounds with an optional adapter.
In addition to AFCIs, the SureTest checks for another major cause of electrical fires: high resistance points. It applies a 12, 15 or 20-amp load to a line to enable the measurement of voltage drop. This helps to locate dangerous high resistance points hidden behind walls such as a loose connection, a corroded wire, a bad splice or a faulty electrical device. Besides being a fire hazard, high resistance points contribute to computer freeze-ups, equipment malfunctions, and to the shortened service life of all electrical devices on the line.

According to the Electrical Safety Foundation International (ESFI), home electrical fires account for an estimated 51,000 fires each year, nearly 500 deaths, more than 1,400 injuries, and $1.3 billion in property damage. Frayed wires, loose electrical connections, broken extension cords, faulty switches and outlets are common sources of arcing.
About IDEAL INDUSTRIES
IDEAL INDUSTRIES, INC. is a global, diversified family business designing and manufacturing superior products and tools for professional tradesmen in the electrical, wire processing, data communications, aerospace, automotive and construction industries. The 99-year old company was founded in 1916 on the premise of forging
ideal relationships with customers, employees and communities. The company has consistently grown and expanded under four generations of family ownership.

About IDEAL ELECTRICAL
IDEAL ELECTRICAL is a Division of IDEAL INDUSTRIES, INC. The division is a global leader in the development, manufacture and marketing of enhanced energy management systems, products and technologies for professional electricians, design engineers and facilities executives.
For more information about IDEAL Electrical or other products, click here to go to Utility Products' Suppliers Directory.