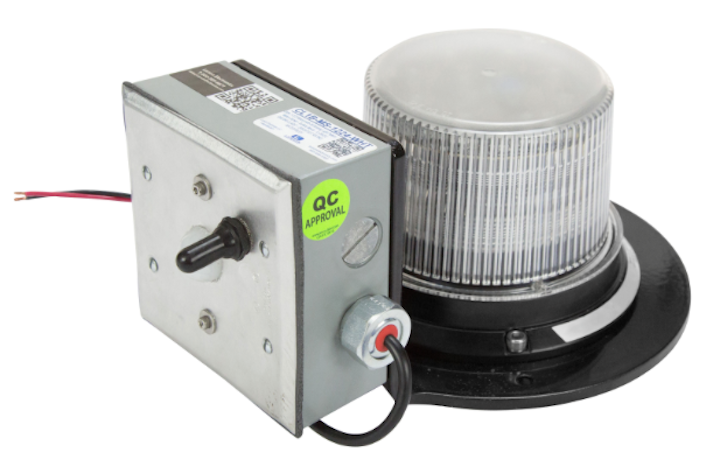 Safety equipment: Larson Electronics has released a low voltage LED strobe beacon equipped with a momentary toggle switch and a motion sensor. The CL1B-MS-1224 LED beacon light is a compact, high-powered strobe light containing an LED lamp assembly that produces 360 degrees of brilliant light in an optional color output (red, green, blue, amber, or white).
A momentary switch located on the side of the unit allows operators to easily toggle through 30 strobe patterns, including four simulated rotating patterns. This unit is equipped with a motion sensor, allowing the beacon to be activated based on motion and has a minimum detection range of 25 feet. The sensitivity of the sensor can be adjusted to meet each application. This unit is constructed with a waterproof and shock proof housing and a clear polycarbonate lens protects the LED assembly. The beacon features a black powder coated die cast base that contains a fully potted circuit board. This beacon draws 1.2 amps on a 12-volt electrical system and can be operated on a range from 12 to 24 volts DC.
"This new LED unit provides extended safety precautions within manufacturing facilities and other warehouse applications giving users an efficient warning light when havoc may arise," said Rob Bresnahan, CEO of Larson Electronics. "It can also provide users with an effective defense mechanism to avert an assailant when a home becomes under attack."
Larson Electronics carries an extensive line of LED light towers, portable power distributions, explosion proof lights for hazardous locations, portable work lights and industrial grade LED area lights.
For more information about Larson Electronics or other products, click here to go to Utility Products' Buyers Guide.