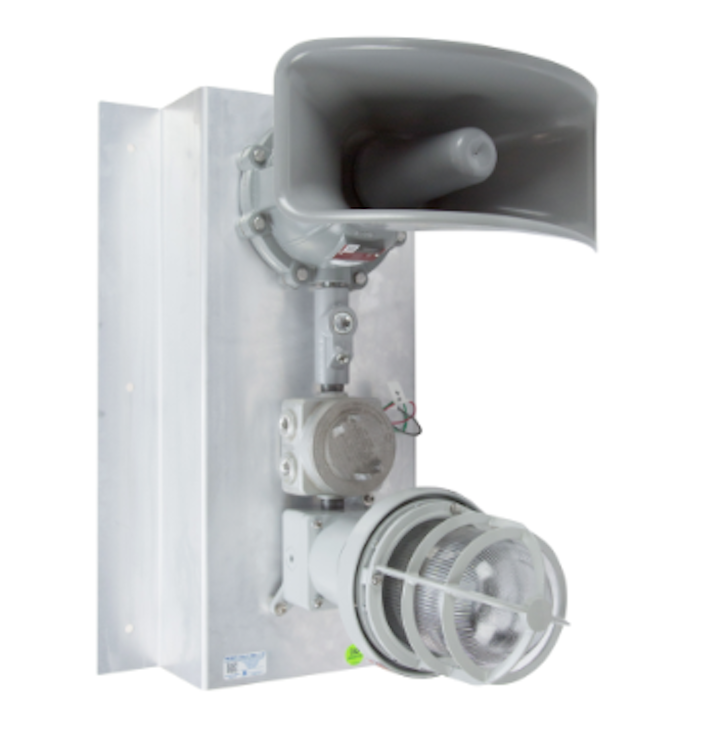 Work light: The hazardous location signal light with an audible horn from Larson Electronics is a Class 1 Division 2 LED stack light that is approved for use in hazardous environments where flammable gases, vapors, and dusts are occasionally present. A single 10 watt LED lamp and an 110dBA audible horn make up the construction of this durable signal light.
The lamp is available in an optional red, amber, blue, green, or white color output producing approximately 1,000 lumens of light. The audible horn provides operators with up to five different tones reaching a peak output of 110dBA, providing a powerful tone output that can be heard over industrial operations. The light housing is constructed of a non-metallic polymer that is chemical resistant and flame retardant while the horn is made of fiberglass. The unit can be operated on 120 volts or 240 volts AC and the wiring connection is made through a 3/4" NPT conduit access hub.
The dual color explosion proof traffic light is rated Class 1 Division 1 for use in hazardous areas where flammable gases and vapors exist. These traffic lights are typically used for industrial refueling stations and manufacturing facilities to indicate process status. Each light's housing is constructed with a polyester powder coated copper free aluminum casting that can withstand 1,490 pounds PSI hydrostatic pressure. The two 10 watt LED lamps in this unit are protected by Pyrex globes and cast aluminum globe guards. The mounting plate for this unit is constructed of non-sparking aluminum and can be customized to certain specifications. This explosion proof indicator light has a 50,000 hour operational life, operates on 120 to 277 volts AC, and carries a T3C temperature rating.
For more information about Larson Electronics or other products, click here to go to Utility Products' Buyers Guide.