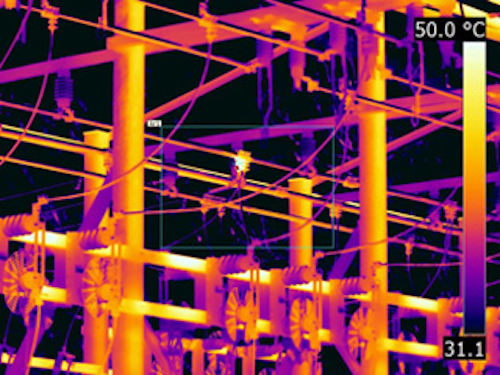 Human beings are incapable of seeing more than a small portion of the electromagnetic spectrum. Although we are generally accustomed to this limitation, there are several situations where a broader visible spectrum is not only useful, but necessary. This is where FLIR thermal imaging cameras come in. FLIR technology redefines what the human eye is capable of, and therefore, redefines what the human race is capable of. Every object releases infrared energy, or heat, which is blind to the naked eye. FLIR thermal technology works by allowing humans to "see" heat in both well lit and dark environments. The uses for FLIR thermal imaging cameras are countless, ranging from minor tasks to lifesaving operations.
FLIR Systems Inc. is a pioneer for thermal imaging. They design, develop, manufacture, market and distribute technologies that enhance perception and awareness. FLIR's ability to expand the capabilities of the naked eye has earned it its reputation as 'The World's Sixth Sense.' With their wide variety of affordable thermal imaging products, there's something to fit everyone's wants and needs, at work, home or play.
The workforce has been notably impressed with FLIR's thermal imaging technology. It's a great tool for a variety of professionals, from firefighters to realtors. However, the utility industry, in particular, has found FLIR's technology to be a necessary staple in the workplace. Electricians, plant managers, building inspectors and technicians are just some examples of workers who have greatly benefited from this innovative equipment. FLIR infrared cameras not only save professionals time, money and energy on the job, they also allows workers to deal with issues in a safer and smarter manner.
In Gary Orlove's article, "How Smart Infrared Cameras Empower," he states, "As business cycles quicken, it's getting more important for power companies and service providers to see catastrophic events in the making and to take appropriate remedial action. Unfortunatly, many problems in the making can't be diagnosed by sight alone. They require a combination of insight and the right tools to make up for the blindess lurking beyond our sense."
Because of the limitations of the naked eye, one of the most prominent and esteemed products among utility professionals is the FLIR E-Series, which includes the E40, E50 and E60. These advanced thermal imaging cameras troubleshoot more efficiently, create detailed reports easier, and share images and findings faster so workers can get more done in a day.
FLIR products have been thoroughly reviewed by a variety of specialists, especially in the utilities field. Scott Mathis, a two-year FLIR E50 user, shares his experience, saying: "The FLIR E50 has helped with industrial motor and bearings and belts. It's helped narrow down water leaks, find insulation problems that we didn't know we had. The FLIR E50 has knocked out many hours of troubleshooting, finding electric problems, bad connections and unbalanced loads. At the house, areas of flashing on the roof were able to be located and patched instead of replacing the entire roof, saving thousands. The FLIR E50 may be more advanced than an entry-level thermal camera, but its ease of use and capacity means I won't be outgrowing it anytime soon."
Scott Mathis is not alone in his experience. Unique uses for FLIR thermal imaging cameras are always being discovered. Mr. Esserling, a home inspector, shares his positive interaction, saying: "Today this little device saved my client $1,000. It proved most of the circuit breakers were over-loaded in an old electrical panel, and it needed to be replaced."
Not only are customers impressed with the quality and ease of FLIR's product, they are also stunned by its affordability. One reviewer mentions: "From the moment you pick up the unit, you can't help but be impressed. The more I use the camera, the more I like it. In this increasingly competitive market, it's tempting for manufacturers to cut corners to keep costs down and make cameras more appealing to the consumer. As a result, there has recently been a flood of low cost, low quality cameras on the market that have failed to impress us. Well, not so with the FLIR E40. FLIR has stuck with the brand's traditional values of manufacture and produced a very high quality piece. It shows in all aspects of the design and you would happily part with your money for this unit."
Not only is FLIR a star in the workforce, it's power is also transferrable to the home. Maintenance problems are easy with FLIR technology. Whether it's heat loss, a water leak, unwanted critters or poor plumbing, home owners are happy to forgo the inspector or repairman. It's also worthy to note that the device can tackle pesky maintenance issues even before they arise, such as detecting hidden moisture before it becomes mold.
Not only does FLIR thermal imaging protect the structure of a home, but it also helps protect the people within it. Whether its checking the temperature of baby food, helping find lost pets in the dark, or detecting lurkers around the home, this small sidekick can keep families safe in big ways. In addition, FLIR is a great adventure buddy because of its ability to navigate dark trails, check for smoldering fires and experience wildlife at night. With this pocket sized device, exploration has no limitations.
With such vast capabilities, an introduction to FLIR thermal imaging cameras can only scratch the surface. But on September 27-29, the 2016 InfraMation conference will be held in Las Vegas, Nevada. InfraMation is the world's largest thermal imaging training experience. It's the perfect opportunity to learn more about how this technology can enhance your life, at home or on the job. For information and registration, visit www.inframation.org, and join the conversation on social channels with #inframation16.
If you cannot make the conference, but are interested in the work and technology that FLIR creates, follow them on social media @FLIR or visit flir.com. The FLIR team loves sharing customer's stories, photos and discoveries with the online community, and they are happy to see their innovations helping people live out their daily missions. Learn More About InfraMation 2016.
"Learn More About InfraMation 2016" URL: http://www1.flir.com/utility-products-enews-editorial-august-2016