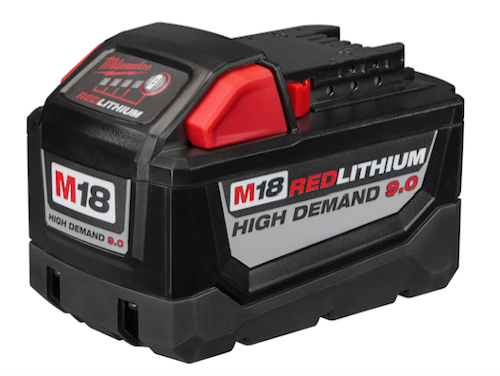 Stored energy: Milwaukee Tool has announced the industry's largest step towards full corded replacement. With the introduction of the M18™ REDLITHIUM™ HIGH DEMAND™ 9.0 Battery Pack, Milwaukee will completely shatter cordless expectations, delivering up to 5X more run-time, 35% more power and run 60% cooler than standard lithium-ion batteries. In conjunction with the advanced framework of motors and electronics in the M18™ system, this new battery technology exceeds what's possible on high-voltage or multi-battery tools, and is fully compatible with the entire M18™ system.
"The M18™ system is now the most advanced, capable, and complete system in the industry. Milwaukee's proprietary battery, electronics, and motor technology is what drives the unmatched performance of our trade-specific solutions. M18 FUEL™ has created a revolution in the cordless industry. With the introduction of the new M18™ REDLITHIUM™ HIGH DEMAND™ 9.0 Battery Pack, we're taking the extreme performance of M18 FUEL™ and bringing up to 2X the performance of our industry-leading 5.0 XC battery to everything in this system. And because this new solution is fully compatible with the M18™ system our users have come to know and love, they won't experience a loss of productivity," said Paul Fry, VP of Product Marketing for Milwaukee Tool. "This is a leap in lithium-ion technology that completely changes the perception and expectations of what cordless tools are capable of."
Upgrading to the new battery pack will instantly increase the performance of users' current M18™ cordless tools. The new M18™ HIGH DEMAND™ 9.0 Battery Pack will deliver more work per charge and more work over the life of the pack than any other power tool on the market regardless of voltage. In addition, the ability for the M18™ REDLITHIUM™ HIGH DEMAND™ 9.0 Battery Pack to run significantly cooler also means users will be able to push their cordless tools harder and longer than ever before.
With the launch of the M18™ REDLITHIUM™ HIGH DEMAND™ 9.0 Battery Pack, Milwaukee now offers fully compatible battery solutions for the best performance at all levels (Compact, Extended Capacity, and High Demand) to meet specific user needs. The HIGH DEMAND™ 9.0 pack is optimized for high draw M18 FUEL™ tools and solutions that need an extensive amount of sustained power and run-time for applications such as high demand drilling, chipping, cutting, and grinding.
The M18™ REDLITHIUM™ HIGH DEMAND™ 9.0 Battery Pack will be sold as an accessory to the M18™ System and in select M18 FUEL™ kits, and will have full system compatibility with all M18™ cordless solutions.
About Milwaukee Tool
Since the company began in 1924, Milwaukee Tool has led the industry in both durability and performance by providing the best in professional, heavy-duty tools and accessories. With an unwavering commitment to the trades, Milwaukee continues to lead with a focus on providing innovative, trade-specific solutions. Whether it is through their leadership in LITHIUM-ION technology, as seen in the M12™, M18™ & M28™ Systems, time-saving accessories or innovative hand tool products, Milwaukee is dedicated to delivering a steady stream of advanced solutions for the trades that offer increased productivity and unmatched durability. Milwaukee Tool is a Brookfield, Wisconsin-based subsidiary of Techtronic Industries Co. Ltd. (TTI) (HKEx stock code: 669, ADR symbol: TTNDY).
For more information about Milwaukee Tool or other products, click here to go to Utility Products' Buyers Guide.