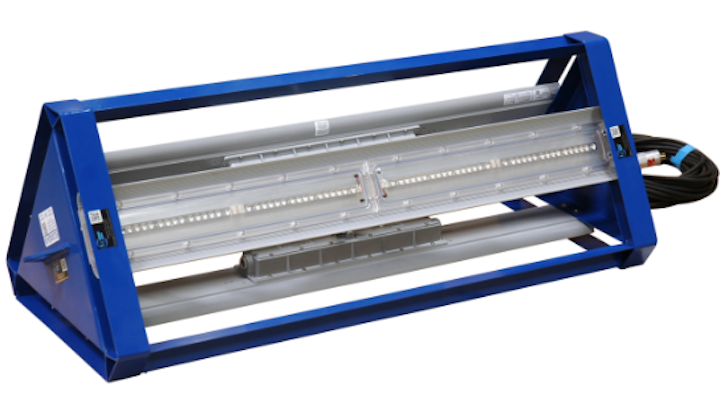 Work lights: Larson Electronics, an industrial lighting company, has announced the release of a new 4-ft. explosion proof portable LED flood lighting system that uses three 48 in. LED light heads to produce a combined total of 21,000 lumens of light. The EPL-3X100LED-4-HDL-100 portable explosion proof LED flood light system is Class 1 Division 1 approved and uses three 48-in. LED light heads producing a combined total of 21,000 lumens of light.
Each 100 watt LED light fixture is mounted to a portable powder coated frame constructed from non-sparking aluminum. The LED lights within the unit produce a brilliant flood pattern of light that is ideal for illuminating enclosed areas and hazardous locations where flammable vapors, gases and dusts may be present. Each lamp comprised in this unit draws 100 watts and produces 7,000 lumens with a color temperature of 5000K, which produces colors and details much more accurately than high pressure sodium lamps.
This flood light system is versatile and can be positioned in an upright position to provide an intense flood beam with 360 degrees coverage around the system or laid on its side to provide lighting within tanks and enclosed work areas. The triangular frame design provides stability and protection for the LED units when mounted in either direction. A pick-eye located on the top of the frame allows operators to lower the flood light system into tanks through man-way entries as well, adding to the versatility of the system. Three handles are fabricated into the base of the unit providing convenient mobility despite the direction the unit is resting. Included with this LED light is 100 feet of SOOW cord terminated in an optional explosion proof cord cap providing the current from any 120 to 277 volt power source.
"Larson's new explosion proof lighting system provides operators with a versatile lighting solution that produces light in every direction of the work space," said Rob Bresnahan CEO of Larson Electronics. "This feature eliminates the need of having to move the light around to see the tedious areas of a work space."
Larson Electronics produces an extensive line of LED light towers, portable power distribution systems, explosion proof lights for hazardous locations, portable work lights and industrial grade LED area lights.
For more information about Larson Electronics or other products, click here to go to Utility Products' Buyers Guide.