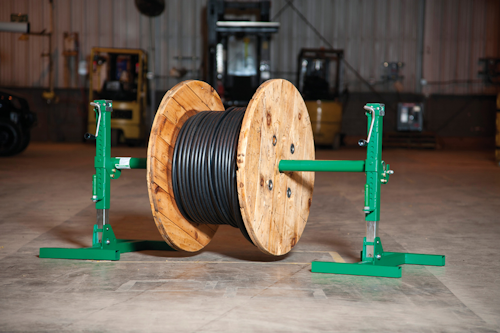 Construction equipment: Greenlee Textron, a Textron Inc. company, has developed a new RXM Reel Stand that delivers improved set-up time, mobility and capacity while safely dispensing spools of cable during a pull. A pair of Greenlee RXM Reel Stands can accommodate spools weighing up to 6,000 pounds. The design incorporates a rubber carry handle and weighs only 35 pounds, allowing for easy transport around the job site. This new reel stand also eliminates loose pieces and the need for any additional tools during setup.

"Contractors continue to demand more flexibility from their material handling equipment and at the same time want more ergonomic and safety features as well," said Sara Bauer, Greenlee Product Management Specialist. "This new RXM Reel Stand offers all that plus rapid and secure reel set up."

The stand is interchangeable for use on either side of the reel. It features an open head design for fast, top-loading of the spindle and a patent pending quick adjust mechanism to rapidly accommodate different spool diameters. In addition, the reel stand can fold down for convenient shipping and compact storage.

Two forward extensions on the head keep the spindle safely contained throughout the pull. A sidewind crank allows easy lifting of the spool. The ergonomic design and location of the crank eliminates wrist deviation decreasing muscle efforts in the wrist, hand and forearm, and also reduces back strain on the operator.

The new RXM Reel Stand pulls cable easier with this ergonomic and time-saving solution for Faster, Safer & Easier® material handling.
For more information about Greenlee Textron or other products, click here to go to Utility Products' Buyers Guide.