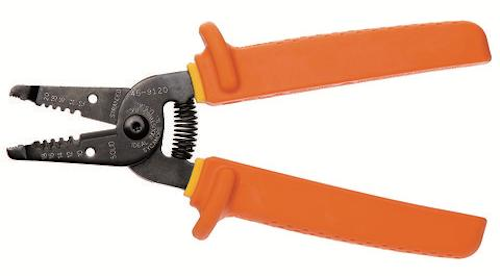 Wire strippers: IDEAL ELECTRICAL, one of the world's largest manufacturers and suppliers of quality tools, connectors and testers for electricians, has combined the field-proven performance of its T®-Stripper wire strippers with a double insulated handle that is UL listed and certified to 1000 Volts, bringing electricians the ultimate in wire stripping quality, comfort and safety.
The insulated Premium T-Stripper (part 45-9120) furnishes a secure, ergonomic grip without forfeiting durability. Its high-visibility orange outer-surface handle resists oil, perspiration, water and chemicals, while its permanently bonded, inner-surface handle is bright yellow so it acts as an "at-a-glance" safety monitoring system; if the outer orange coating reveals any of the inner yellow, the electrician knows it is time to replace the tool. Large finger stops guard against accidental contact with exposed metal tool parts.
Engineered for extra toughness in harsh work environments, the wire strippers boast a corrosion-resistant, black oxide finish and tough steel construction. Its form-ground, knife-type blades deliver accurate, fast stripping of wire without nicking insulation. A built-in wire cutter, laser-etched markings, and wire looping holes round out the tool's impressive feature set.
COMPLETE LINE OF INSULATED TOOLS
IDEAL is offering its double insulated line of hand tools in a broad range of styles to meet the varied needs of the professional electrician. Available individually or in convenient multi-piece sets, IDEAL insulated tools meet ASTM F1505-01 and IEC 60 900 standards, as well as comply with OSHA 1910.335 regulations. Each tool is UL and VDE listed and certified to 1000V AC for exceptional safety. In addition to the T-Strippers, insulated tools include pliers, crimpers, cable cutters, screw and nut drivers, and a skinning knife.
For more information about IDEAL ELECTRICAL or other products, click here to go to Utility Products' Buyers Guide.